Will The Bucs Show Adam Humphries Respect?
March 9th, 2018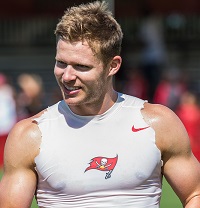 One way to build a winning culture is to reward the players who fit your ideal mold and to immediately dump the players who don't — if you made a mistake putting them on the roster in the first place.
Receiver/returner Adam Humphries (Rudy!) is a restricted free agent, and it's up to the Bucs to either sign him to a new contract by Wednesday, or slap a one-year tender on him and see if another team is willing to give Humphries a better offer sheet for the Bucs to match.
Yeah, the NFL is a business, but if the Bucs truly respect Humphries' 143 catches, durability and work ethic over the past three years, plus the consistent praise he's gotten from Jameis Winston, then they'll put a second-round tender on him. That would mean he'd earn about $3 million this season and another team, if they beat that price and signed Humphries, would have to cough up a second-round draft pick to the Bucs.
Reality says that's too big a price for Humphries. That's overpaying.
The Bucs could probably get away with sticking him with a no-draft-pick tender, which would pay him just under $2 million to return. But why risk it, and why not make a statement that the Bucs will reward those who work consistently hard and succeed?
The Bucs aren't drafting a wide receiver this year, and Humphries is an important contributor who worked himself up from undrafted tryout player with limited talent, a stunning overachiever.
Pay the man. Pay Cameron Brate. Pay Kwon Alexander — three young players you want shaping the pulse of your team.