"The Way He Attacks In The Film Room"
March 11th, 2018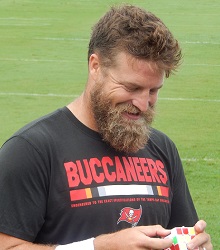 Returning Bucs backup quarterback Ryan Fitzpatrick dropped a little insider peek into One Buc Palace last week.
And it was uplifting.
Talking to Buccaneers.com in a video chat with Casey Phillips, Fitzpatrick strong feelings about his Tampa experience and feelings.
"I think there's some unfinished business just in terms of the talent on this team and where we can go from here. I thought it was great working with Jameis and just seeing him, you know, physically, but you know mentally, the way that he attacks in the film room, it was really exciting to see. So for us to further that bond and to continue to see him improve as a player is going to be great," Fitzpatrick said.
Fitzpatrick went on to say "the love was both ways" when it came to the respect and appreciation shown him by Jason Licht and Dirk Koetter.
Yes, Year 2 of Fitz is a good thing, especially if Jameis Winston is going to booted from One Buc Palace for several weeks because of an NFL suspension stemming from his Uber hassle.