A Very Different Offseason
March 30th, 2018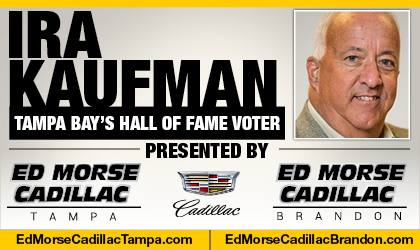 BY IRA KAUFMAN
Great expectations? I think not.
The Bucs are flying so low under the radar, they might crash into the Browns.
That's alright, because NFL history has taught us that teams who come out of March free agency looking like lions are often devoured in September.
There was plenty of local media sitting with Dirk Koetter in Orlando during the annual coaches breakfast, but ESPN and NFL Network reporters remained at a distance — like our table had MRSA.
The Adam Schefters of the world were too busy trying to get tasty sound bites out of Bill Belichick and Jon Gruden. With the Rams seemingly intent on making news every other day, Sean McVay was swarmed over.
In case you haven't noticed, we are in the midst of a very different offseason for the Buccaneers. There won't be any Hard Knocks cameras around One Buc Place this summer, following Swaggy Baker to the nearest tree and checking out Ali Marpet's skills on the ukulele.
This time around, Tampa Bay isn't coming off a 9-7 season that promised so much more, spawning a Stick Carrier movement that was so eager to embrace this franchise. Now, things are so quiet heading into the draft, you can hear that humongous flag flapping in the breeze outside the team facility.
That's one of the reasons why Koetter is smiling so broadly these days. This organization is following his directive to speak softly. Soon, we will see about that big stick.
This is the lowest profile the Bucs have generated in many years.
Historic Quiet
Let's take a quick look back.
Starting with Tony Dungy's arrival in 1996, the Bucs featured studs like Warren Sapp and Derrick Brooks. The team was good and Hall of Famers led the way.
Gruden provided his own spotlight for seven years and in 2009, new coach Raheem Morris drew considerable attention.
The following offseason was marked by the addition of Gerald McCoy and excitement about a new starting quarterback by the name of Josh Freeman.
In 2011, Buc fans and ownership were stoked about a 10-6 season that came out of nowhere. New coach Greg Schiano arrived from the college ranks to provide intrigue during the spring of 2012.
A 7-9 finish offered hope for the 2013 offseason and another new coach came along in 2014, with Lovie Smith expected to bring back the glory days.
Despite a 2-14 mark, the Bucs garnered a lot of national attention after selecting Jameis Winston first overall. In 2016, Tampa Bay made yet another coaching change as Koetter finally got his shot calling the shots.
So here we are, with the Bucs largely ignored by the national media.
Selecting guard Quenton Nelson at No. 7 won't move that needle, even if it's the smart way to go.
Joel Glazer could care less whether Jay Glazer is talking about the Bucs in the offseason. If this team is lurking in the shadows right now, it will make it that much sweeter if the Bucs make some noise under the bright lights of RayJay.
Ira Kaufman is the most revered sports personality and writer in town. He has hung his hat at JoeBucsFan.com world headquarters since July 2016. Tampa Bay's only Pro Football Hall of Fame voter, Ira busts out columns here every Monday, Wednesday and Friday, and his award winning podcasts fire Tuesdays and Thursdays. You can also hear Ira on SiriusXM Mad Dog Radio Wednesdays during football season, and see him now on Mondays at 10:30 p.m. on Spectrum Sports 360 (aka BayNews 9). Ira also is part of the FOX-13 Tailgate Sunday and enjoys beet salads, Riesling, Chiefs victories and needling Joe.