Tyrann Mathieu, Rashaan Melvin Sign Cheap
March 17th, 2018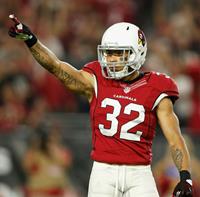 Where has the burning desire to entertain gone?
Where's the insatiable urge to collect elite talent like Joe collects Hooters receipts?
Where's Jason Licht's biscuit?
A high-flash, high-ceiling young defensive free agent, crazy-talented cornerback/safety Tyrann Mathieu, joined the Texans late yesterday. It's just a one-year deal for $7 million.
Mathieu would have looked fantastic in a Buccaneers uniform. And just a month ago, before his cash-related release from the Cardinals, he was Twittering about his made respect for new Bucs defensive line coach Brentson Buckner. The former "Honey Badger," Mathieu, still just 25 years old, worked with Buckner and Bucs general manager Jason Licht in Arizona.
Joe's not blasting anyone here. Mathieu might have wanted no part of the Bucs. Perhaps he watched their defensive film last year.
Joe's frustrated because, like every fan, Joe wants as many sexy and sensible upgrades to the Bucs roster as possible — before the draft. The Bucs still have money available.
Mathieu on a one-year deal would have been one hell of a shot in the arm.
Chucky and the Raiders also inked former Buccaneers cornerback Rashaan Melvin to a one-year deal worth $6.5 million yesterday. Melvin, 28, thrives in man defense, is a very eager tackler and can play anywhere in the secondary, former Bucs GM Mark Dominik detailed on SiriusXM NFL Radio yesterday. Melvin had a breakout season with the Colts last year.
Joe going to go out on a limb and say Melvin is a better option that Ryan Smith.
There's still time for more wheeling and dealing to improve the Bucs. But the list of quality names is thinning fast.