Toughest Opponent
March 1st, 2018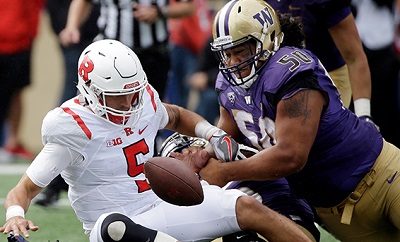 Joe has waited a while to give a take on Vita Vea, the 6-4, 344-pound beast of a defensive tackle prowling the NFL Scouting Combine right now.
Today, Joe caught an interview with four-year UCLA starter Scott Quessenberry, a likely fifth-round picks this year at center/guard. His brother plays for the Houston Texans and Scott is a sharp guy with 44 starts of experience for the Bruins.
He was asked to name his toughest matchup in his career. Easy answer, he said, Vea, the University of Washington star.
Telling.
Vea is a freakish athlete and his upside is almost limitless. So the question here is whether he is worth the No. 7 overall pick for the Bucs. The answer probably depends how you define "reach."
Is it a "reach" at No. 7 if the Bucs think Vea is a slam dunk run-stuffer up the gut of their defense for several years, even if they have him rated as, say, a top-12 pick?
Far less menacing nose tackle Star Lotulelei was a No. 14 overall pick for the Panthers in 2013, and he gave them five strong years for an excellent defense.
Vea would be an intriguing Bucs pick because he should represent a huge upgrade. Tampa Bay has a hole at defensive tackle, which is why they signed Chris "Swaggy" Baker last year and then drafted Stevie Tu'ikolovatu in the seventh round. Stevie T. was hurt before opening day and was on injured reserve all season. And there's injury-prone Clinton McDonald, who is a free agent at 31 years old. Gerald McCoy is 30 years old, as well.
Allegedly, Vea with the Bucs would be walking into a great incubator — allegedly. Gerald McCoy is a seasoned and caring pro. Will Gholston gives his all. Robert Ayers enjoys counseling rookies and was a former first-round pick. Noah Spence tries and tries, even if he has one arm.
And most important, the Bucs have new defensive line coach Brentson Buckner. They love him so much Dirk Koetter fired his friend Jay Hayes to make room while Team Glazer paid Hayes in full for 2018.
Joe would applaud Vea in pewter and red, assuming the brass believes he's an instant-impact guy, minor "reach" or not.