Right On Bennett; Wrong On Quinn
March 8th, 2018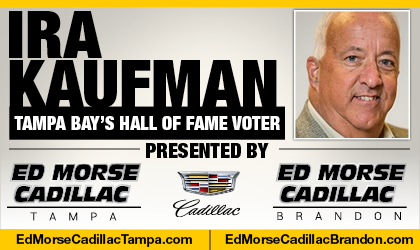 BY IRA KAUFMAN
Disappointment? Understood.
Indignation? Misplaced.
Buc fans are a little edgy after seeing Robert Quinn and Michael Bennett change teams. Tampa Bay needs to generate much more pressure up front and neither free agency nor the draft is stuffed with enticing pass rushers.
For me, Quinn was the man who got away, even with some injury concerns. He's still in his prime and he comes off the right edge with energy and technique.
The Eagles just added Bennett to a position of strength and the Super Bowl champs didn't give up much in the process. But that doesn't mean Bennett would be a good addition at One Buc Place.
In fact, it could have been a disaster.
Let's start with the suspicion that Bennett isn't nearly the same player that signed with Seattle as a free agent in 2013 and promptly helped the Seahawks to a championship.
Bennett turns 33 in November and his body is starting to break down. He missed five games with a knee injury in 2016 and played through foot and knee injuries last year.
The Seahawks just let him go in a salary dump, although Seattle's pass rush is mediocre. That's a red flag.
Just because the Bucs were foolish to let Bennett go five years ago, it would have been equally foolish to give up assets to get him back. Bennett's versatility is attractive, but most of his QB pressures come when he lines up inside. The Bucs are hurting more on the edge.
Baggage Claim
Bennett hasn't posted a forced fumble or a fumble recovery in the past two seasons, an indication his play-making skills have diminished.
But that's not all … not by a longshot.
This guy has more baggage than Samsonite. At this point, you could credibly argue that Bennett is more disruptive off the field than on the field.
How so?
Bennett became a slightly polarizing figure in Seattle when he chose to kneel for the National Anthem, protesting racial inequality and police brutality. He said he meant no disrespect to the military, but we saw what happened in Tampa in 2016 when Mike Evans sat during the anthem as a silent protest against president-elect Donald Trump.
Two days later, Evans apologized.
In terms of weather, geography and politics, Seattle and the Bay area are miles apart. Bennett's outspokenness would hardly be embraced along Bayshore Boulevard — and there's more.
Bennett has also accused Las Vegas law enforcement of racial profiling and excessive force during an incident that saw Bennett detained with handcuffs in the back of a police car before he was released.
Vegas police say Bennett's account is riddled with inaccuracies.
Schiano Hypocricy
In the closing moment of a late-season loss at Jacksonville last year, Bennett dove at a lineman's knees with the Jaguars in a kneel-down formation.
When he was asked about it, Bennett said, "I don't have to explain myself."
Yes, you do.
A year after Greg Schiano was ravaged for ordering the same tactic in 2012, Bennett ridiculed his former coach in Tampa, implying it was a bush-league move. That's the NFL definition of hypocrisy.
I've been saving the best for last.
Sometime next month, a book co-authored by Bennett is expected to hit the shelves. The title? "How to Make White People Uncomfortable."
Don't expect Bennett's book-signing tour to include the Tampa Bay market.
If the Bucs don't think Bennett would be a good fit for them in 2018, they have that right. And as far as I'm concerned, they got it right.
Ira Kaufman is the most revered sports personality and writer in town. He has hung his hat at JoeBucsFan.com world headquarters since July 2016. Tampa Bay's only Pro Football Hall of Fame voter, Ira busts out columns here every Monday, Wednesday and Friday, and his award winning podcasts fire Tuesdays and Thursdays. You can also hear Ira on SiriusXM Mad Dog Radio Wednesdays during football season, and see him now on Mondays and Fridays at 10:30 p.m. on Spectrum Sports 360. Ira also is part of the FOX-13 Tailgate Sunday and enjoys beet salads, Riesling, Chiefs victories and needling Joe.