Report: A Deal! Bucs Ink Two-Career-Sack Tackle
March 14th, 2018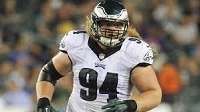 UPDATED: 12:04 p.m – Yes!!! Maybe.
The Bucs have a new defensive tackle, a run stuffer with two career sacks. Think Akeem Spence minus the pass rush skills.
The fresh meat is Beau Allen, per the Tampa Bay Times. He comes fresh off the Eagles roster. The 2014 seventh-round pick by the Eagles was a fixture on their roster as a rotational run stuffer since he joined the team.
Now he'll be a Buccaneer, hopefully returning the run defense to what it was in 2016 and under Lovie Smith, before it fell into the crapper last season.
Per NJ.com, Allen was a key cog and beat man Eliot Shorr-Parks was lobbying for the Eagles to keep him.
Allen played 423 snaps this season for the Eagles, only 70 less snaps than starter Timmy Jernigan, and not considerably less than the team's best defensive tackle, Fletcher Cox (607).
The NFL's 32-ranked defense probably just got better. So that's a good thing.
For those wondering, the Super Bowl champion Eagles replaced Allen with veteran Ravens and Lions stud Haloti Ngata.