"Please Accept Our Apology"
March 22nd, 2018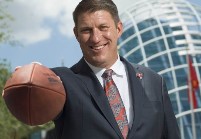 The apologies are being Tweeted at general manager Jason Licht.
Fans are literally poking the Buccaneers' architect on social media with heartfelt cries for forgiveness.
Please forgive us, Mr. Licht!
Legions of Bucs fans have been stomping around the Tampa Bay area for the past month — until today.
Call it residual rage from a promising 2017 season gone bad and what appeared to be Licht ignoring the team's greatest offseason need, a pass rush.
You're darn right Joe has been a cheerleader for these battered fans. They deserved to be fed up and fried after years of no playoffs, the longest streak in the NFC, and 12 years of no double-digit sackmaster. Joe aches and yearns for relief as much as anyone.
These fans deserved to be skeptical of Licht, who was on his fifth year building a pass rush. They had every right to react flabbergasted that mighty Robert Quinn and Michael Bennett were top defensive ends traded recently to the Dolphins and Eagles, respectively.
A lot fans even earned the right to be bitter after buying hundreds of tickets for a team that hasn't had a winning record at home since Chucky was head coach.
But that exasperation has evaporated today. Licht got the job done in a huge way by trading for stud DE Jason Pierre-Paul. And he only needed to cough up a third-round pick to the Giants. After all the anxiety, Licht got the job done. He rebuilt the Bucs' defensive line in a hurry.
Hope has been restored.
Optimism feels right again.
That's what being a fan is supposed to be about. And Licht returned that glorious gift to us.
Thank you, Mr. Licht.
Joe will leave you with a Tweet that said it all from Bucs Uncensored host Justin Pawlowski, The Commish.
I see you @jasonrlicht!!

Sorry for our impatience! Please accept our apology. We, the fans, want to win as bad as you do!!

— Justin Pawlowski (@CommishOnline) March 22, 2018