Michael Bennett Trade Chatter — To The Falcons
March 4th, 2018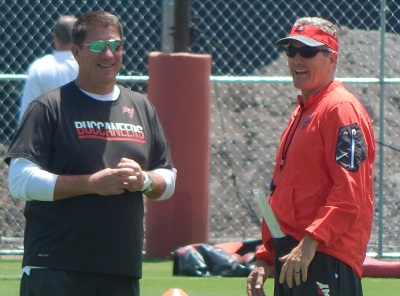 The intrigue is unavoidable, the thought of versatile stud pass rusher Michael Bennett, who the Bucs let walk out of Tampa five years ago for no good reason, squaring off twice a year against J.R. Sweezy and Demar Dotson with a burning desire to take off Jameis Winston's head.
ESPN and others are reporting tonight that Bennett's Seahawks are talking to the Falcons, among other things, about a trade for Bennett.
It's almost comical — and it feels like another chapter in the Bucs' bizarre soap opera: the likelihood of the Falcons letting Adrian Clayborn (9 1/2 sacks) walk and bringing back Bennett. Super Bowl Falcons head coach Dan Quinn knows Bennett well from their days together in Seattle.
Are the pass-rush starved Bucs one of the teams talking to Seattle about Bennett? Doubtful.
What next, LeGarrette Blount and his three Super Bowl rings to the Panthers to replace Jonathan Stewart and complement Christian McCaffrey?
Look, Joe's not about to start running through downtown St. Pete with lit torches tomorrow night; general manager Jason Licht deserves a shot to show what his plan is to fix the Bucs' defensive line. But it better be successful, preferably more successful than whatever Robert Quinn, Michael Bennett and Calais Campbell bring to the table in 2018.