"Maybe It Would Be Good After Three Years That Jameis Has A Fresh Voice"
March 5th, 2018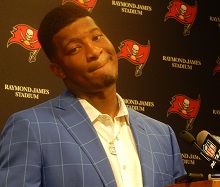 Joe is somewhat confused.
Outside of the machine that prints playoff tickets, is something else stale and ignored at One Buc Palace?
As Bucs fans know, Todd Monken has gone from full-time receivers coach and part-time offensive coordinator to full-time offensive coordinator. The offseason change was a subtle one made without a lot of specifics.
Recently at the NFL Scouting Combine, Monken sat down for the Sports Day Tampa Bay podcast and talked about what his job change could mean. One element, per Monken, is tied to delivering messages to America's Quarterback, Jameis Winston.
"[Coach Koetter] had mentioned that, you know, maybe it would be a good after three years that Jameis as a fresh voice," Monken said. "I know we talked about that, you know, just hearing it from somebody else. So we'll see again; we'll see how that goes. It's a work in progress [as to my focus and duties as offensive coordinator]."
Joe likes the philosophy but not the execution.
If a fresh voice for Jameis is desired — which is a little odd on various levels — then why not change the quarterbacks coach? There were many QB coaches with NFL playing experience on the market this offseason that could have given Jameis fresh perspective, versus current QB coach Mike Bajakian, who never played in the league.
So since Tampa Bay kept Bajakian, who has been Jameis' daily voice since he was drafted, then Joe must assume the regime considers Bajakian the best available QB coach in the NFL. And if that's the case, then why does Jameis, who was thriving late last season, need a new voice?
Monken is a good football coach and clearly can get through to players, and he knows Koetter's message inside and out. So maybe he can help Jameis stop giving the ball away like Halloween candy, as well help him stay more composed.
Still, if Koetter felt Jameis needed a new voice in his ear, then Joe would have preferred to see a new set of eyes in the mix, rather than just a new voice.