Koetter Talks Cutting JPP's Snaps
March 28th, 2018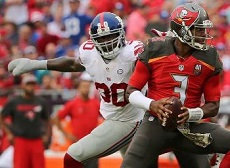 Ever since Tampa Bay traded for first-class NFL defensive end Jason Pierre-Paul (man, it's fun to type that), Dirk Koetter and Jason Licht have lauded JPP for playing more than 90 percent of the Giants' defensive snaps last year.
For those who don't care about such data, that's a ton of snaps, a league-leading kind of total in the trenches.
Koetter mentioned the feat yesterday at the NFL coaches breakfast in Orlando, so Joe asked if it's far to say Koetter wants to cut that number significantly, say back to 80 percent of the snaps
"It is fair to say that but I don't think that's what he wants to hear," Koetter said of JPP. "You know, I think he addressed that in [his] press conference. When I did my research on JPP, one of the things people that have coached him in the past told me is, 'He doesn't like to come off the field.' Well as a coach, I look at that as a positive. But I think if you look around the league, teams, we've said this every year, that we'd love to have a rotation and play guys less. Sometimes injuries don't let you do that. You know, we've been hit hard the last two years at the defensive end spot. So, you know, by the end of the season we had guys that were playing a lot of snaps by necessity."
Koetter went on to say the Eagles were a great model for rotating defensive linemen, and he noted they stayed healthy. Of course, the Bucs now own two members of that Super Bowl roster, defensive tackle Beau Allen and defensive end Vinny Curry.
Joe sure hopes the Bucs cut 29-year-old JPP's snaps a bit from his astronomical total last season. No, the Bucs are not headed to the Super Bowl this year, and it might be a good idea to preserve JPP a little bit over the course of a long season.
Maybe, just maybe, some fast starts by the Bucs' talented offense, and a blowout win or two, will make that easy.