Kicker Among The Opening Plays
March 6th, 2018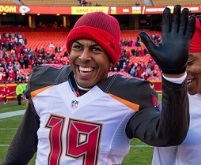 A glaring issue of the Jason Licht regime has been at kicker — and you can't blame Lovie Smith for that circus.
You know the names, the faces and the misses — and the other stud kickers in the NFC South.
The Panthers' 2017 Pro Bowl kicker Graham Gano just inked a four-year deal that will pay him more than $4 million annually. Matt Bryant, who one day will be part of Hall of Fame induction chatter, just signed a new three-year deal with the Falcons.
Noted NFL.com, "At the age of 42 in 2017, Bryant nailed 34 of 39 FGAs and all 35 PATs. He made eight field goals over 50 yards, including a 57-yarder. For his career, Bryant has made 85.78 percent of his FGAs, which ranks him ninth all-time."
When the Bucs traded up to draft Roberto Aguayo in Round 2 of the 2016 NFL Draft, the Saints signed undrafted Wil Lutz. He was good enough in his rookie year and matured to strong and consistent last year. And he didn't wilt in the playoffs.
So where does this leave the Bucs?
Joe believes it should put Licht on high-alert to — again! — fix the Bucs' kicking game.
Incumbent Patrick Murray stabilized a mess last year, but he did not prove to be special, and he was poor from 50+ yards. He's also subpar on kickoffs, which burned the Bucs in the final month of the season.
Please, please, please, somebody call soon-t0-be free agent Caleb Sturgis, the good, young Eagles kicker who lost his job to a hot new kicker after a September hip injury.
Make kicking great again.