The Great Fan Divide
March 19th, 2018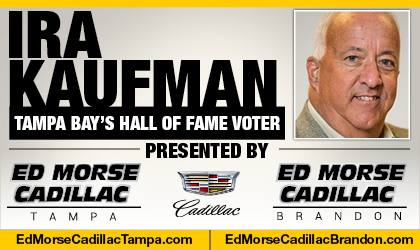 BY IRA KAUFMAN
This is the time of year two different sides of Buc Nation emerge on full display.
We're in the sixth day of free agency and, as expected, the Bucs have addressed several positions without generating many national headlines.
That's perfectly alright with ownership because Joel Glazer used to watch in amusement every March as the Redskins overspent on big names that rarely panned out.
Until the draft next month, a Bay area war will rage between Buc optimists happy with the free-agent haul and cynics who lament the guys that got away — led by Robert Quinn, Michael Bennett, Trumaine Johnson, Dion Lewis, Malcolm Butler and Patrick Robinson.
Glass half-full or half-empty?
Both sides of this Great Divide have plenty of ammo.
While the cynic complains the Bucs haven't addressed glaring needs at running back and corner, optimists rightfully point out this offseason was supposed to focus on toughening the trenches.
In that regard, Tampa Bay is off to a decent start.
Stomping Out Soft
Beau Allen isn't necessarily a better pass rusher than Swaggy Baker, but he's more physical. Vinny Curry hasn't been a sack machine coming off the edge in Philadelphia, but he's a tough dude and, unlike Robert Ayers, his body isn't breaking down.
The Bucs had gotten more nasty up front, even before they made Ryan Jensen the highest-paid center in the league, the move that even the cynics have a hard time scoffing at. Jensen is the kind of badass player Dirk Koetter has been craving the past two seasons.
In Atlanta, Koetter saw Mike Smith pay the ultimate NFL price for fielding a team that was deemed soft in the eyes of owner Arthur Blank.
The only legit knock on Jensen is he hasn't fashioned a lengthy resume as a pro center. Early reports suggest his arrival will shift Ali Marpet back to guard, and that's a plus in my book.
I've heard some suggestions that Marpet will be asked to move to left guard, so J.R. Sweezy can stay on the right side. If that's true, list me on the cynic side. You accommodate your best players, so tell Sweezy to move and keep Marpet where he's comfortable.
Many Layers
Let's return to the two-headed beast.
The cynic would say the Bucs still don't have a viable double-digit sacker on the current roster. The optimist is excited by the news the Bucs are interviewing Bradley Chubb, the draft's top-rated defensive lineman.
And if there's a madcap rush for quarterbacks at the top of the draft, the Bucs are likely to have an opportunity to land one of the Big 3 — Chubb, Saquon Barkley or Quenton Nelson.
If that happens, even the most cynical of Buc fans would find it difficult to ridicule Jason Licht's offseason haul.
In the interests of fairness, here's one for the hard-liners to savor: why doesn't anybody want Buc free agents?
Where's the clamor for Robert McClain, McDonald, Patrick Murray, Kevin Pamphile, Charles Sims, Evan Smith or T.J. Ward?  They're still on the market, looking for another payday.
We all know there are some Buc fans on the extremes of this divide.
Some of the die-hards believe Mitch Unrein is ready to blossom into the next Fletcher Cox. Some of the cynics are inclined to roast Licht, no matter what upgrades he brings in.
The vast majority of Buc supporters are somewhere in the middle, crying, waiting and hoping for the end of this lost decade.
Ira Kaufman is the most revered sports personality and writer in town. He has hung his hat at JoeBucsFan.com world headquarters since July 2016. Tampa Bay's only Pro Football Hall of Fame voter, Ira busts out columns here every Monday, Wednesday and Friday, and his award winning podcasts fire Tuesdays and Thursdays. You can also hear Ira on SiriusXM Mad Dog Radio Wednesdays during football season, and see him now on Mondays and Fridays at 10:30 p.m. on Spectrum Sports 360. Ira also is part of the FOX-13 Tailgate Sunday and enjoys beet salads, Riesling, Chiefs victories and needling Joe.