GMs Don't Coach
March 26th, 2018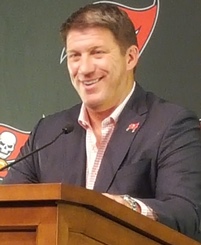 During what felt like rock bottom of the Buccaneers' nose dive last season, JoeBucsFan.com ran a planned confidence poll on the performance of general manager Jason Licht.
The idea was to survey the masses at midseason, as well as after the trade deadline.
Simple concept.
But Joe never imagined the Bucs would be a 2-6 football team coming off an embarrassing defeat in New Orleans.
Up went the poll and the results poured in — just over 44 percent of fans expressed that they were "confident," "very confident," or "totally confident" in Licht. Joe found that to be a very high number considering the massive deflation being felt through the fan base.
Licht had scored off-the-charts favorable marks from fans in previous polls, but still, Joe was impressed by how so many fans were standing behind a losing GM. It said a lot.
Fast forward to Joe's flash poll of more than 2,000 fans on Saturday, and nearly 81 percent of fans gave Licht "B" or "A" grades for his work this offseason to date.
It was another huge vote of confidence for the fifth-year general manager, and it tells Joe that fans realize general managers do not coach. You can blame them for losses all day long, but at the end of the day, they're not the one's putting guys on the field, calling plays, making in-game adjustments, starting slow — or fast — running practices and overseeing the direction of the locker room.
As Joe talks to various GMs and league power players — including Team Glazer — at the NFL owners meetings this week in Orlando, Joe will chat about the evolving role and evaluation of the general manager, as Joe has done in past years. It is a rather fascinating subject, and very timely as Licht is in a contract year.