Clinton McDonald Joins The Broncos
March 21st, 2018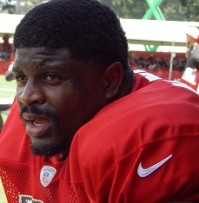 Finally!
A Buccaneers free agent finds a new home.
Good guy defensive tackle Clinton McDonald, owner of a Seahawks Super Bowl ring and four Bucs seasons on his resumé, is taking his five sacks last year (more than 20 percent of the Bucs' team total) and joining the Broncos.
Denver has signed McDonald to a two-year contract.
The Broncos had 33 sacks last season and the No. 3–ranked defense, though they were a very odd team because they still allowed a load of points, exactly as many as the Bucs.
McDonald, 31, was a great citizen in the Tampa Bay area, an active helper after Hurricane Irma and was the team's Walter Payton Man of the Year in 2017.
But injuries were a factor for a McDonald, he missed more than 25 percent of Bucs games over four seasons, and defensive tackles tend to age in a hurry once they hit 30. The Bucs certainly needed to get younger on the D-line, and they did.
Since McDonald is in the AFC, Joe hopes he tears it up next season.