The Bucs' We-Sorta-Want-You Deals
March 12th, 2018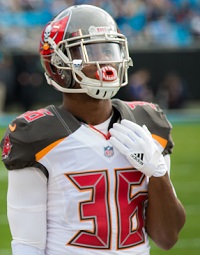 There's the monster money Mike Evans was offered — and accepted last week. And then there are the Buccaneers who are given a contract offer that doesn't actually reflect deep love by the team.
It happens every year.
Teams toss a veteran free agent a rock bottom offer to stay, half expecting or hoping he'll walk and it will help them potentially get a compensatory draft pick.
Joe learned over the weekend that Bucs cornerback Robert McClain and safety Keith Tandy fall into that category this year. Neither has re-signed as of this typing, and perhaps both players want to see if their services are worth more on the market.
The "legal tampering" negotiating period on free agents kicks off a noon today. They're free to sign anywhere on Wednesday.
Versatile McClain, who turns 30 this summer, played for $775,000 last year. He made nine starts in 14 games and had three interceptions. And he certainly wasn't one of the major problems in the Bucs secondary. Joe talked to McClain after the season and he said he liked Tampa and wants to return. McClain was the surprise, feel-good story in the Bucs secondary last season.
Tandy, 29, the Bucs' fifth-round pick in 2012, battled minor injuries last year, made a few starts and appeared to fall out of favor with coaches. But he's been called "a glue guy" by head coach Dirk Koetter (so was released Luke Stocker) and Jameis Winston has said Tandy is the only guy who might put in as much time as him at One Buc Palace. It's been said that Tandy has a future as an NFL coach.
Will either of these guys return?
We'll know in a hurry. But they will have NFL jobs this season.