The Bucs & Mike Pouncey
March 15th, 2018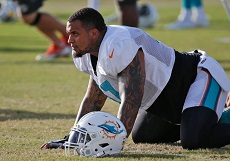 Last night, per several reports, the Buccaneers were courting and interviewing Ravens free agent center Ryan Jensen.
So it's fair to assume Jason Licht wants to beef up the gut of his offensive line.
Well, if they're serious about that (and who knows with the Bucs), then there's a new man on the market, three-time Pro Bowl center Mike Pouncey. At 28 years old, Pouncey is healthy. The 2011 Dolphins first-round pick wouldn't take a pay cut, per multiple reports out of South Florida, so he was launched.
The former Florida Gator and Lakeland star might be interested in staying in Florida.
Joe can't claim to know what Pouncey's film looks like, but Joe does see irritated Dolphins fans on Twitter this afternoon. Shouldn't the Bucs at least make a few phone calls? Again, they seem to want to improve at center, and perhaps chatter with Pouncey could help force a good deal with Jensen.