Two Critical Second Chances
March 5th, 2018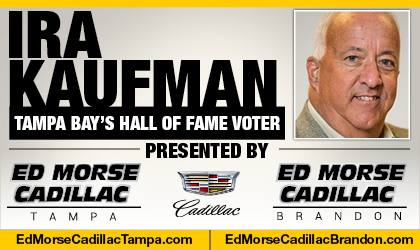 BY IRA KAUFMAN
Investiture.
It's a difficult word to spell and a bear to pronounce, but keep it in mind when you consider the fortunes of the 2018 Tampa Bay Buccaneers.
With free agency and the draft on the horizon, Buc fans are naturally curious to see what offseason moves this organization will make to get back on the right track. Beefing up the trenches is an obvious focal point, but there are a couple of players already on the roster who can give Tampa Bay a major boost — if they play up to expectations.
Yes, we're talking about DeSean Jackson and Vernon Hargreaves, One's a veteran trying to recapture past glory. The other is a third-year pro still trying to prove he belongs on an NFL stage.
By no means are the Bucs moving on from Hargreaves and Jackson this fall, despite meager production.
Investiture.
When it comes to first-round draft picks, GMs are in no hurry to admit a mistake. You can't be a draft dodger when you sit down with your owner and try to explain poor judgment at the top of the selection process.
Hargreaves was lauded for his ball skills at the University of Florida, but Buc fans haven't seen it. With only one interception in 25 NFL games, Hargreaves finds himself on trial entering a new season.
Why hasn't Hargreaves gotten his hands on more footballs? He's too far away from the action.
As a rookie, he gave away more cushions than Sealy. There he was, crouching 10 yards off the line of scrimmage, offering receivers a free release.
Last summer, we heard a lot of chatter about how Hargreaves would display more aggression, challenging wideouts and exuding more confidence.
That talk ended when the season began and Hargreaves reverted to passive form.
When the Bucs shifted him inside to the slot, Hargreaves played more effectively before a hamstring injury ended his season in November. If Hargreaves had shown more as an outside corner, the Bucs wouldn't be in such a desperate mode to re-sign potential free agent Brent Grimes.
Free Replay
Investiture tells us that Hargreaves will make the team, but if a new regime comes along in 2019, Hargreaves could be vulnerable.
"We were very happy with Vernon after his rookie year," Jason Licht says. "We thought he was really trending up. Last year, he had a couple setbacks and he would be the first to tell you that. By no means are we giving up on Vernon.

"He's got a lot of talent. I had a lot of positive conversations with Vernon at the end of the year and I'm excited where his mind is right now. I think he's going to have a pretty good year.''
Targeted well before the start of free agency, Jackson was supposed to be a whirlwind to stretch the field. Instead, he stretched the patience of Buc fans wondering,who was this impostor wearing No. 11?
Rapture Or Bust
For nine years, whether he was catching passes from Kirk Cousins, Robert Griffin, Nick Foles, Michael Vick, Kevin Kolb or Donovan McNabb, Jackson reigned as one of the league's premier deep threats.
He generated at least one 60-yard reception in each of those nine seasons until joining Tampa Bay in 2017, when his longest catch was a mere 41 yards.
"We just didn't give DeSean enough chances down the field," Dirk Koetter said on his weekly interview with SIRIUS Radio. "DeSean got behind the defenses. We missed him sometimes, didn't see him sometimes, maybe didn't have enough time sometimes, maybe didn't try it enough. For whatever reason, we didn't give DeSean enough opportunities to do what he does best."
When the season ended, Koetter hinted that Jackson was open all year long. My explanation is rather simple — Jameis Winston and Jackson forged little chemistry/timing and Koetter didn't take enough shots downfield.
If I'm Koetter, I'm throwing three or four deep balls to Jackson every week. Every damned week. If the passes are accurate, Jackson's going to draw more than his share of interference calls because few corners can keep up with his breakaway speed.
And like Andy Reid told me last year, Jackson has that rare knack for maintaining his acceleration while the ball is in the air instead of dropping down a gear. If Winston can't get those deep passes close enough to connect or prompt a flag, that's on him.
Like Hargreaves, Jackson isn't going anywhere. Koetter wanted him and Licht signed him, so they are all in this venture together. If they flourish this fall, Jackson and Hargreaves could lead the way for a Buccaneer revival.
They have it in their power to replace investiture with rapture.
Ira Kaufman is the most revered sports personality and writer in town. He has hung his hat at JoeBucsFan.com world headquarters since July 2016. Tampa Bay's only Pro Football Hall of Fame voter, Ira busts out columns here every Monday, Wednesday and Friday, and his award winning podcasts fire Tuesdays and Thursdays. You can also hear Ira on SiriusXM Mad Dog Radio Wednesdays during football season, and see him now on Mondays and Fridays at 10:30 p.m. on Spectrum Sports 360. Ira also is part of the FOX-13 Tailgate Sunday and enjoys beet salads, Riesling, Chiefs victories and needling Joe.