Clear Fix, Clear Path
March 21st, 2018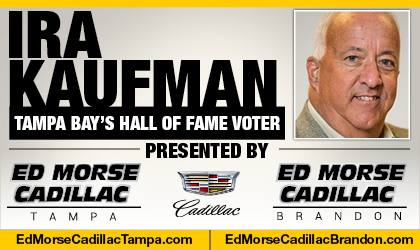 BY IRA KAUFMAN
It's been awhile since this town felt good about its football team.
So much has changed in the 15 months since the Bucs reeled off a five-game winning streak that thrilled a loyal fan base. A different chief executive was working out of the Oval Office and Evan Longoria was still holding down the hot corner for the Rays.
But in looking ahead toward the challenge facing the 2018 Bucs, it's instructive to remember the joy and confidence that emerged in the fall of 2016 and wonder whether it can happen again.
That glorious run followed two of the worst defensive efforts in recent Buc history — and that's saying something.
Oakland had just beaten Tampa Bay 30-24 in overtime, rolling up 626 yards while overcoming an NFL-record 23 penalties. Four days later, in a prime-time Thursday matchup, the Falcons cruised to a 43-28 triumph as the Bucs inducted John Lynch into the Ring of Honor.
Derrick Brooks and Warren Sapp stood on the sidelines that evening, embarrassed by the Buc defense.
When Tampa Bay's season continued 10 days later, everything changed. The Bucs downed the Bears, Chiefs, Seahawks, Chargers and Saints in succession, generating 14 takeaways and frustrating some of the NFL's best quarterbacks.
Keith Tandy came off the bench for an injured Chris Conte and looked like Ed Reed for a month. Opponents converted only 29 percent on third down as the Bucs vaulted into playoff contention.
And guess what? Raymond James Stadium rocked with a passion not seen since Jon Gruden roamed the sidelines.
Back To Earth
Gerald McCoy was pumped at the prospect of his first postseason appearance. The Bucs finished 9-7, but it was fun while it lasted.
Man, was it fun.
"You're only as good as your weakest link and I always said, if we don't have any weak links, then how good can we be?" McCoy said.
O.K. That's enough nostalgia … let's return to the planet Earth.
The takeaway from 2016? If this embattled franchise is ever going to emerge from a 10-year slumber, swarming defense will have to lead the way.
Hope Lies In Buckner, Draft
That's just the way it is in the Bay area. Even the new assistant coach in town knows our pedigree.
"It goes to a certain fiber of that city, to the fans," says Brentson Buckner. "A lot of fans have appreciation for the tough hardness of the game — which usually is associated with the defense. Pittsburgh is going to be associated with defense. They could have the leading offense in the history of the world, but that's a defensive city.

"I think Tampa Bay, just the way it was built, those guys came in and built something special. They were winning games 6-3, 3-0. We need to [remember] that we have the Lombardi Trophy in there and one of the top defenses of all time."
Despite a stellar trio of linebackers, Tampa Bay's defense is riddled with concerns. We're always told that pass defense is comprised of rush, plus coverage. At the moment, the Bucs appear short on both fronts.
Right now, that majestic five-week run in 2016 looks like a fluke.
There's little depth on the defensive line and in the secondary — killer issues when facing NFC South quarterbacks.
The answers will have to come in the draft, where Jason Licht needs to duplicate his 2014 haul. Buckner will have to bring out the best in Noah Spence and any rookie additions.
"People are going to like what they like and this city longs for that type of defense because they saw what Sapp and them did by putting that trophy in there." Buckner says. "We have to try to duplicate that."
Ira Kaufman is the most revered sports personality and writer in town. He has hung his hat at JoeBucsFan.com world headquarters since July 2016. Tampa Bay's only Pro Football Hall of Fame voter, Ira busts out columns here every Monday, Wednesday and Friday, and his award winning podcasts fire Tuesdays and Thursdays. You can also hear Ira on SiriusXM Mad Dog Radio Wednesdays during football season, and see him now on Mondays and Fridays at 10:30 p.m. on Spectrum Sports 360. Ira also is part of the FOX-13 Tailgate Sunday and enjoys beet salads, Riesling, Chiefs victories and needling Joe.