Anything To Dull The Pain
March 16th, 2018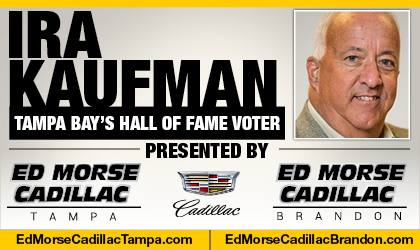 BY IRA KAUFMAN
How would you like to be pushing Buc season tickets right now?
Those poor saps in the ticket office are trying to drum up support for a 5-11 club that barely made an early ripple in the free-agent pool.
The Bucs have pushed Beau Allen and Chandler Catanzaro out front and we can only assume that Mitch Unrein is next up at the podium. In reality, the past two days delivered one gut-punch after another for a fan base frantically seeking a reason to believe in this organization.
The decision by defensive end Alex Okafor to return to the Saints was another blow and the fact center/guard Ryan Jensen was allowed to leave the building and head to another suitor was ominous.
What in the name of Swaggy Baker is going on around here? If the Bucs "are close," as Dirk Koetter and Jason Licht suggest, why not sign a difference-maker or two?
The answers, my friend, are blowing in the gale outside One Buc Place.
It appears ownership has decided to take a wait-and-see approach to the 2018 season. A 5-11 finish will make you reassess where your franchise stands and the Glazers don't quite know how to proceed.
Jameis-driven?
Status quo rules, at least for now, and there's a subtle factor at work that you should consider before turning your back on management. The NFL's investigation into Jameis Winston continues, with no end in sight.
Roger Goodell and his enablers should be ashamed of themselves for allowing this probe to continue well past any sane expiration date.
It's now four months and counting for examination of an alleged groping incident from two years ago.
This absurd delay isn't fair to the Bucs and it's certainly not fair to Winston, whose remaining detractors are eager to believe the worst.
The Bucs were smart to bring back Ryan Fitzpatrick, but the consequences would be massive if Winston is suspended for a significant stretch.
In this period of uncertainty, the Glazers aren't inclined to go for broke by spending extravagantly in free agency. It appears Licht and Koetter will have to make do with incremental upgrades while the team gets younger.
That brings me to another recent development in free agency with some serious Buc undertones.
The Bucs Life
The Jaguars just showed Austin Seferian-Jenkins some money and I wish Tampa Bay's former tight end much success as he joins his third organization at the tender age of 25.
Still, I can't stop thinking that he stole money from the Bucs for two years before they released a second-round pick who was anything but professional in Tampa. For two seasons, Seferian-Jenkins underperformed while the Bucs hoped his drinking days were behind him.
"When I showed up in Tampa, I didn't know anyone and sometimes when you don't have support, you look for support in other ways – substances or whatever it may be," he said. "I know I lost myself and who I truly was. I figured drinking would be a good way to numb the pain."
Ah, the pain.
Just think about the ramifications of the Seferian-Jenkins fiasco. If ASJ had played up to expectations, the Bucs wouldn't have drafted O.J. Howard at No. 19 last year. Instead, maybe they select a Dalvin Cook or corner Tre'Davious White, who just turned in a stellar rookie season in Buffalo.
But as we all know, It's a Bucs Life. Great expectations have given way to grim reality, but the Stick Carriers haven't given up. There's still the draft, along with hope that Winston is exonerated.
A not-guilty verdict by the NFL this spring would help quite a bit.
At this point, Buc fans welcome anything to dull the pain.
**NOTE, Sage Ira will be in the house on Thursday, April 26. He's always up for selfies, free wine and conversation.**