Big Money For Bucs' New Kicker
March 15th, 2018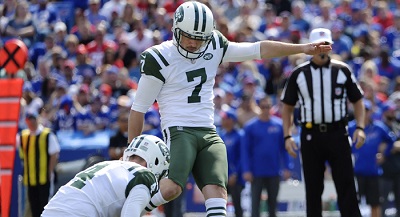 The Bucs' scouts and evaluators assigned to selecting kickers are a very confident bunch.
Joe can't speak from personal interactions, but judging by the whopper contract they dropped on new kicker Chandler Catanzaro as the free agency dinner bell rang, it seems there was a lot of high-fiving at One Buc Palace yesterday.
The 2017 Jets kicker, who replaced Nick Foles, the eventual Bucs 2017 kicker who played last year like the incompetent rookie kicker drafted in 2016 — you can't make this stuff up — got a big vote of confidence from general manager Jason Licht.
Catanzaro, per Jenna Laine of ESPN, will earn $3.75 million guaranteed this year.
He made 83.3 percent of his field goal last season and is well paid on the market. Catanzaro has a big leg and nailed a 57-yard field goal last season, but he has a history of inconsistency that extends to extra points. The Bucs will be his third team in five years.
Joe just hopes the Bucs bring in legitimate competition. Maybe that even means bringing back kicker Patrick Murray, who became a free agent yesterday.
In 2016, the Bucs gifted the job to Roberto Aguayo. He didn't even have another kicker pushing him in training camp. There's no reason to do that again.