Throwing Rocks At The Throne
February 24th, 2018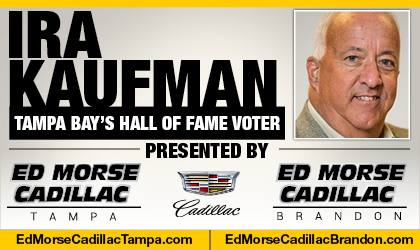 BY IRA KAUFMAN
Brentson Buckner and I have a little history together.
The new defensive line coach of the Buccaneers was a proud member of Carolina's formidable front four in the summer of 2003, when Tampa Bay was preparing to defend its Super Bowl title.
The late, great Tampa Tribune spent money in those days, so the sports department sent me up to Spartanburg (Panthers) and Flowery Branch (Falcons) during training camp to check on a pair of division rivals.
During a conversation with Buckner, he declared that fellow defensive tackle Kris Jenkins was better than Warren Sapp.
"Jenks is a pass-rusher, he's a run-stopper, you're getting the whole package with him," Buckner said. "He could be special. He could revolutionize the position."
I thought Buckner was nuts, but he was serious. Sapp had already been to six Pro Bowls while Jenkins was entering his third NFL season.
Because Sapp and Jenkins were first-team All-Pro selections, Buckner thought he was on safe ground. He didn't understand that with Sapp, there is no safe ground.
When I finished my interview with Buckner, I immediately called my Trib colleague Katherine Smith, who was tight with Sapp. I relayed Buckner's comments and she reached out to No. 99, who promptly sacked Buckner.
"I don't think Brentson Buckner has any pineapple in his diet," Sapp said, referring to the Pro Bowl in Honolulu. The finest pineapple in the world comes from Hawaii, doesn't it? That's what I mean by pineapple in your diet."
Suddenly, it was on.
No Backing Down
You had to respect Jenkins, who was coming off a seven-sack season, but Sapp was on his way to Canton as a two-time all-decade player.
"The kid can't be on my level yet, that's just silly," Sapp said. "He's still a young guy. I know what that's like, trying to fight and take down the big dog. But don't throw rocks at the throne."
That was the start of a serious rivalry between the Bucs and Panthers.
Powered by a defensive front that included Jenkins, Buckner, Mike Rucker and future Hall of Famer Julius Peppers, Carolina succeeded Tampa Bay as NFC champions, losing a shootout to New England in the Super Bowl.
When Sapp's quip got back to him, Buckner didn't back down.
"I don't care what another man says," he replied. "I'm not into liking dudes."
Fresh-Squeezed
If you've seen Buckner's introductory news conference in Tampa, you know the man's a live wire. He did a good job as an assistant coach in Arizona and the Bucs are hoping his passion rubs off on a pass rush that could have been sued for non-support in 2017.
Buckner's new focus is helping Tampa Bay's defensive front return to the glory days, when the Bucs hunted in a snarling four-man pack.
"I admired Sapp because he would do those little jabs — knowing that the other team would come back and then his guys would step up to the occasion," Buckner said. "So I said, 'Alright, let's poke the line a little bit.' I have this big 320-pound, 6-foot-4 young buck and he's the best defensive tackle and I knew Sapp would come out.

"That would drive Kris because he was a quiet guy and that would drive him because he would get mad if Sapp said something about me. Like I said, I looked at that whole formula. I looked at the way Sapp carried himself and the way that Simeon Rice was cooler than the other side of the pillow. Everyone had their own distinct role and we would try to mimic ourselves after them."
Three stud quarterbacks in the NFC South have been far too comfortable for far too long against the Bucs. In Buckner's perfect world, Drew Brees, Cam Newton and Matt Ryan find themselves on the run this fall.
Forget the pineapple. Just bring the juice.
Ira Kaufman is the most revered sports personality and writer in town. He has hung his hat at JoeBucsFan.com world headquarters since July 2016. Tampa Bay's only Pro Football Hall of Fame voter, Ira busts out columns here every Monday, Wednesday and Friday, and his award winning podcasts fire Tuesdays and Thursdays. You can also hear Ira on SiriusXM Mad Dog Radio Wednesdays during football season, and see him now on Mondays and Fridays at 10:30 p.m. on Spectrum Sports 360. Ira also is part of the FOX-13 Tailgate Sunday and enjoys beet salads, Riesling, Chiefs victories and needling Joe.