State Of The Bucs
February 20th, 2018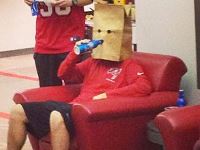 All you need to know about the current State of the Bucs can be wrapped up in one sentence.
And that one sentence comes from the creator, curator and overall guru of Pro Football Talk, the great Mike Florio. In an article yesterday about prospective players being slapped with a tag of some sort — today is the first Tag Day of the year — Florio breaks down each team's franchise and transition tag candidates.
And then Florio comes to the Bucs.
Buccaneers: Another year, another roster containing no free agents worthy of the tag.
In the words of the one and only Chris "Mad Dog" Russo of SiriusXM fame, "that's all you need to know." If a team doesn't have a candidate potentially worthy of a franchise tag, then that team is often a lousy team.
However, that may change in the near future. The way Bucs AC/DC-loving general manager Jason Licht has drafted since he got here, there are all kinds of franchise tag candidates just over the horizon, beginning with wide receiver Mike Evans.