'Show Me What You've Done'
February 23rd, 2018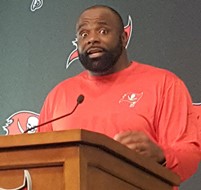 In the words of new Bucs defensive coach Brentson Buckner, players dig what he says because he has street cred.
Buckner played 12 seasons in the NFL. At defensive tackle and defensive end.
Now in an era of players wanting to know why they should listen to their position coach, Buckner said, he provides ample evidence that he knows what needs to happen in the trenches life of an NFL defensive lineman.
In fact, Buckner learned this coaching method from a guy who has a bust in the Pro Football Hall of Fame, Kevin Greene. He was not only a teammate of Buckner's but a fair defensive coach himself.
"I think it gives me the opportunity, when I talk about a situation, because it hasn't been that long ago that I played, that I can pull [the tape] up," Buckner said Wednesday. "If I tell you to get your pads down because they'll drive you off the ball on the double-team and you'll get slammed, I can pull up through a 12-year career where that's happened to me. So I'm speaking from experience and not just coach-talk.

"I think this generation of players is more that, 'Show me what you've done.' That's not to say anything bad about guys that haven't played the game. There's some great coaches out there that never strapped on a helmet that can coach circles around me. But I think for being in a defensive line, it's such a hard job, you're asked to do some superhuman things by holding onto 350-pound guys and sacrificing yourself – I can show them where I did it right and I can more so show them where I did it wrong. That's my thing: Learn from my mistakes. I played 12 years and made some mistakes, technique-wise. Let me help you erase those things because I actually experienced that, and it makes you a better player. I think that's what really helps me.

"Kevin Greene, a guy I played with with the Pittsburgh Steelers, he said, 'When you got into coaching you're blessed to coach the position you actually played for a long time. Use yourself as the good and the bad example, and the guys will respect that. It will make you humanize yourself to them more easily.' Thank God for that experience."
Joe had mentioned this the other day. One thing Joe likes about Buckner opposed to many coaches on Dirk Koetter's staff, Buckner actually has played in the NFL this century. For example, Jay Hayes played in the USFL. For current players, that may as well be saying Hayes flew the Hindenburg, something they may have heard about but doesn't exist.