"We Just Need More Guys To Have His Back"
February 27th, 2018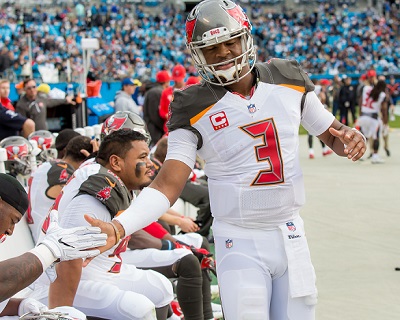 A Buccaneers starter has a strong take on what's going to make Tampa Bay a good football team this season.
It's an important one for fans to digest.
Right tackle Demar Dotson was asked on the Ira Kaufman Podcast last week, (by the Sage of Tampa Bay sports himself), why fans should feel good about the Bucs turning things around in 2018.
Dotson went directly to the straw that stirs the drink.
"One, you got a franchise quarterback in Jameis, who's, you know, the guy wants to win. He's hungry. He's determined. He's not a loser," Dotson said. "Jameis is a guy, I would go to war with that guy any day of the week. He's got his guys' backs. We just need more guys to have his back.

"When I go out there on Sunday, man, I really want to protect for the guy. Because I know truly, he got a lot of rah-rah with him but it's genuine passion. I think they made a big fuss about him eating Ws, and it come out odd and weird, but the guy's just got genuine, 100 percent authentic passion.

"He might not know how to channel it yet, you know, channel it the right way because he's still young. But the guy's just got so much fired up energy; he wants to win. I think when you've got a leader like that that's going to run this organization, once they surround him with the right pieces, and everything comes to unfold, this thing [is going to thrive]."
Dotson went on to say there are many fakers out there when it comes to NFL leadership and authenticity in the locker room, but that's not Jameis. Dotson was very passionate about that, saying he'd see right through BS after nine years in the NFL — and he had Jameis under a microscope when he arrived.
Lost in all the angst about the Bucs' defense and the apparent status woe approach from the organization is the fact it's still a quarterback league. If Jameis has a breakthrough 2018, if he can climb out of the average wing of NFC starters, the Bucs will be the turnaround story of the year.