McCoy Turns The Wrong Corner
February 25th, 2018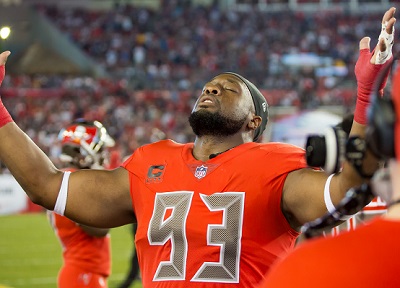 No, the headline isn't a Jameis Winston driving joke. 
Joe is talking about Gerald McCoy getting a bear hug from Father Time today. Your face of the franchise (like it or not) has turned 30 years old.
Happy Birthday, Gerald!!
At the Pro Bowl, Joe found McCoy as a man in very, very good spirits, a guy who was full of gratitude and insight, introspection and optimism for his beloved Buccaneers.
That is tough duty around these parts, and it requires a man who yearns to win and see the good in his teammates.
McCoy has endured a 10-game losing streak (2011) and grinded through a second-half-of-the-season collapse (2012). He's stomached an 0-8 start (2013), and he was a star on a 2-14 football team (2014). He also played through an epic December collapse (2015) and a head-shaking 5-11 season on the NFL's worst defense (2017).
It's almost amazing he hasn't asked for a trade.
Joe suspects McCoy stays sane, in part, because he has earned about $100 million of Team Glazer loot playing for those many brutal Buccaneers teams. That has a way of soothing a man.
Regardless, Joe notes the McCoy birthday because it symbolizes how the franchise has very much wasted what could be the best years of McCoy's career. It's a lot to expect two more top-shelf seasons from McCoy. It's hard to stay at the top of the game as a 10th-year defensive tackle and McCoy has eight years and several injuries in the books.
McCoy's time very much is now, and McCoy truly knows he has an expiration date.
Joe expects one more fantastic season from McCoy. As free agency approaches, the way the Bucs proceed might tell us if that's all they expect, too.