Koetter Details Red Zone Positives & Negatives
February 28th, 2018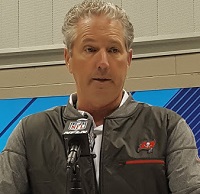 Dirk Koetter promised he would make a deep, deep dive into the Bucs' repeated red zone failures after last season ended.
That forensic look was completed, Koetter explained today.
Looking cool and calm at an NFL Scouting Combine podium, Koetter was asked about how much he has studied last year's red zone issues.
"A lot!" Koetter interjected before the full question was complete.
And then came the data and an explanation.
"It's a lot of things. You know, I think we were seventh at getting into the red zone but 24th in the league in scoring touchdowns in the red zone," Koetter said. "We had 53 possessions where we had the ball in the red zone. If we would have got touchdowns in five more of those, we would have gone from 24th to top-8 in the league. So I just threw a whole bunch of numbers at you. Yeah, I broke down every one of those possessions and why we didn't score.

"Sometimes it was poor execution. Turnovers were a factor. Untimely penalties were a factor. And sometimes it was bad playcall sequences. There's always more than one thing. And that's one of our top priorities as an offensive coaching staff to get fixed for next year.

"When you're 3-7 in one-score games and then you watch those red zone possessions and how many times you had to settle for a field goal, you say, 'Man, what if we would have gotten a touchdown here instead.' That's one of your quickest ways to flip your record around."
Perhaps what's most troubling about the Bucs' red-zone failures was all the weapons available. Not every team had Mike Evans, DeSean Jackson, Cameron Brate, O.J. Howard and Charles Sims at their disposal, among others.
Later, responding to Joe asking about whether fixing slow starts was a more pressing issue than red zone failures, Koetter went back to the numbers and said red zone takes priority.
"When you get down there — you can spin these stats any way you want – how does an offensive team lead the league in first downs, fourth in the league in third downs but 24th in red zone scoring? You have to score points!

"Whether it is on your first drive or you might be in the red zone three or four times a game, you have to get over that 60 percent [touchdowns in the red zone]. Points are points wherever they come."
Joe's got a lot of hope for the offense to improve in the red zone, especially running the football. Koetter is no fool and the weapons are there — and Doug Martin is gone. Still, there remains a lot more to fixing the Bucs beyond the red zone.