The Cost Of Doing Business
February 9th, 2018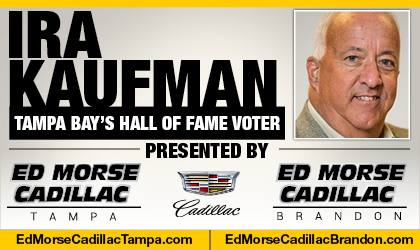 BY IRA KAUFMAN
Elite quarterbacks want to be paid and it won't be long before the Bucs are standing in the financial crossroads.
John Lynch didn't do Jason Licht any favors by emptying the vault for Jimmy Garoppolo, who has all of seven pro starts on his resume.
The 49ers just signed him to a five-year deal worth $137.5 million and Lynch is confident that deal will turn out to be a bargain.
That's because he believes his young quarterback is on the path to greatness. Lynch also knows that Kirk Cousins is about to break the bank as a free agent, with Matt Ryan, Aaron Rodgers, Ben Roethlisberger and Russell Wilson all in line for new deals within the next couple of years.
So where does that leave Jameis Winston, who turned 24 last month?
The first overall pick in the 2015 draft will have a cap hit of only $8 million next season. Expect Tampa Bay to pick up a fifth-year option on Winston in the next few months, just like the Bucs did with Mike Evans last April.
The Bucs have until May 2 to exercise that option, otherwise Winston could become an unrestricted free agent in 2019. There's no way the Bucs would allow that to happen because ownership and management still believe in his vast potential.
"Last year showed everyone the type of quarterback Jameis is when he's healthy," says Donovan Smith, whose main job is to keep Winston healthy. "He got hurt in what, Week 2 or whenever it was, and he fought through it. I don't even think he was fully healthy when he was lighting it up. It's scary to be honest how great he actually is."
Serious Or Not?
To figure out Winston's option-year salary in 2019, take the average of the top 10 quarterback salaries in the league. The Bucs and Winston could also agree on a contract extension that would keep him in pewter for quite awhile.
First things first.
Evans is ahead of Winston by one year in the pecking order and the best wide receiver in franchise history is already hinting that his long-term extension may be announced shortly.
The Glazers have told me that they will gladly pay out big money for second contracts because that would mean the team is building around a young, talented core.
The flip side of that is Evans, Winston, Kwon Alexander, Ali Marpet and Smith figure to take up a considerable chunk of Tampa Bay's salary-cap space by the end of this decade.
Hey, that's the cost of doing business in the NFL if you're serious about putting a winning product on the field.
Until now, the quarterback position hasn't made a major impact on Tampa Bay's salary structure. That will soon change, unless the Bucs are undecided whether Winston is the right guy to lead their resurrection.
"Jameis is as tough as they come," says Ryan Fitzpatrick, who worked with Winston every day during the 2017 season. "Playing through what he did and he didn't want anybody feeling sorry for him … he's got all the right qualities."
Soon, he figures to have the cash as well.
Greatest Hope
Winston isn't a finished product, not by a longshot. He is careless with the rock and he needs to have far better touch throwing the deep ball, although the final pass he delivered in 2017, a last-second TD strike to Chris Godwin, was a thing of beauty.
There is still an Uber investigation hanging over his helmet, but Winston remains the No. 1 reason for optimism that this franchise has a chance to end a 10-year playoff drought, the longest in the NFC.
"Jameis is one of the main reasons this team fights so hard," says Evan Smith. "We know he's not going to back down. With Jameis Winston, you always have a chance."
Ira Kaufman is the most revered sports personality and writer in town. He has hung his hat at JoeBucsFan.com world headquarters since July 2016. Tampa Bay's only Pro Football Hall of Fame voter, Ira busts out columns here every Monday, Wednesday and Friday, and his award winning podcasts fire Tuesdays and Thursdays. You can also hear Ira on SiriusXM Mad Dog Radio Wednesdays during football season, and see him now on Mondays and Fridays at 10:30 p.m. on Spectrum Sports 360. Ira also is part of the FOX-13 Tailgate Sunday.