"Expect" Glennon Return
February 17th, 2018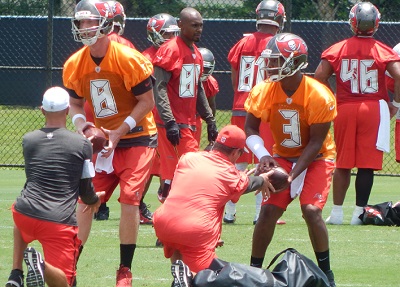 Last March, shortly after the Bears signed quarterback Mike Glennon to a massive contract, Joe was on the local sports radio airwaves making a proclamation.
The take was simple: Glennon would show his colors quickly in Chicago and the team would give up on him after the 2018 season. And then the Bucs would return him to Tampa as the backup to America's Quarterback, Jameis Winston — for less than the $7 million a year or so the Bucs were offering Glennon offseason.
WDAE-AM host Pat Donovan shook his head at that take but didn't say much at the time. But the next day, Donovan actually called it a misguided and borderline stupid take on the air. (Yes, Joe was listening, Pat.)
Well, here we are. The Bucs' need an experienced backup QB. Ryan Fitzpatrick is in line to become a free agent. Jameis might miss games because of a league suspension. And CBS Sports NFL Insider Jason La Canfora is reporting that he's being told Glennon to the Bucs is likely.
"Bringing Mike Glennon back as a backup quarterback is something other teams expect to happen," La Canfora wrote about the Bucs yesterday.
Obviously, Joe expected. Dirk Koetter and Jason Licht respect and like Glennon and no NFL team is foolish enough to think Glennon is the next Nick Foles.
Still, Joe would prefer Fitzpatrick over Glennon for what should be obvious reasons. Might the Bucs sign Fitzpatrick and Glennon? Joe certainly wouldn't rule it out, especially if the Bucs aren't confident that Jameis will avoid a suspension.