The Evolution Of O.J. Howard's Rookie Blocking
February 23rd, 2018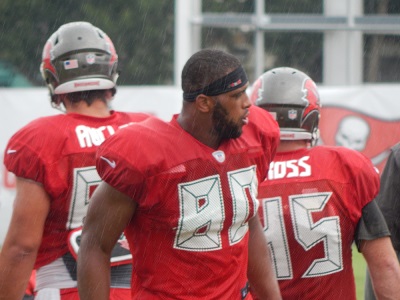 Who better to talk to about O.J. Howard's blocking than the guy often blocking alongside him.
That's just what Joe did this week.
During the Thursday episode of the Ira Kaufman Podcast, special guest Demar Dotson was asked to dive into the blocking evolution and skills of Howard and Cameron Brate.
The Bucs' right tackle kept it real.
"In the beginning, you know, I don't think he really wanted to get in and mix it up," Dotson said of Howard. "But one thing about the young kid, he's willing to listen. And he's willing to learn. He's not like no arrogant young kid. He's a first-round draft pick but you can go in there and talk to him. And that's one thing I love about him; he's so humble. So with that kind of mindset, you know, he's going to be a good, tremendous football player.

"Because he's not just like, 'Don't tell me nothin'.' If you tell him something, he tries to do it. So I love talking to the guy and the coaches love talking to him. And he eats it up. He's going to get tremendously better. As the season went on, he got better and better and better in blocking. In training camp, you know, even know he was trying to do it the way you asked him to do it, it just wasn't fittin' yet. Because he was just a guy who, you know, it just probably wasn't his mojo of blocking. But he had a desire to do it. He had a passion to do it. And as the season went on, he got better.

"Cam Brate he's not that, you know, thick in the behind. But he will stick is head in there and try to mix it up with you. But he's a little lightweight."
Great insight there by Dotson. And it's great to hear of Howard's no-diva mentality. That bodes well for him taking a big next step in 2018.