Donovan Smith: Ticket Hawker
February 15th, 2018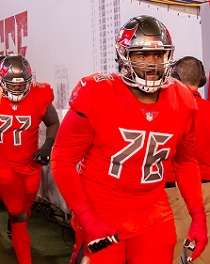 The Bucs' left tackle is a very wise young man.
Now entering his first contract year, Donovan Smith seems to know exactly how to proceed.
He looks fit, six weeks after the final whistle of 2017. And Smith is diving into the bowels of the organization.
Smith, per Buccaneers.com video, has been a Bucs intern this week performing various tasks. He noted that he spent time selling tickets, calling fans and closing deals, as well as leaving phone messages.
That's how to ingratiate yourself to the wealthy men who soon will pay you $12 million per year, whether that's in Tampa or somewhere else.
Sorry to those who just drove off the road or dropped their beer glasses. Indeed, Smith is on track for that kind of money from a team that admires and appreciates his game, his upside and his durability.
Joe sees Smith as at least an average NFL starter, perhaps a tick better. But Joe is very encouraged by Smith doing this "little thing" in February with the Bucs. Joe has a hunch Smith is going to come to camp in supreme condition and be very focused on a monster contract season.