Would Dirk Koetter Follow Steve Kerr?
February 13th, 2018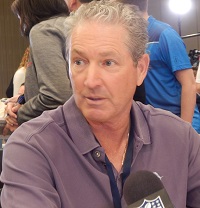 One of the most intriguing coaching moves of this decade in professional sports happened last night and Joe would love to see Dirk Koetter learn from it and apply it where appropriate.
Joe's talking about Golden State Warriors head coach Steve Kerr stepping aside early in an NBA regular-season game and assigning players to take over coaching duties.
Kerr was trying to send a message to his great but slightly struggling club, per the ESPN story. He felt his team had been tuning out the message from him and his staff and they needed a different voice — their own.
"I told them the other night after the last game [on Saturday] that we were going to do it," Kerr said. "It's their team. I think that's one of the first things you have to consider as a coach. It's not your team, it's not [general manager] Bob Myers' team, it's not [owner] Joe Lacob's team — although I'm not going to tell Joe that.

"It's the players' team, and they have to take ownership of it. And as coaches, our job is to nudge them in the right direction, guide them, but we don't control them. They determine their own fate and I don't feel like we focused well at all the last month, and it just seemed like the right thing to do. I thought they communicated really well together and drew up some nice plays, and it was a good night for the guys."
The Warriors won by 41 points. (There are more quotes via the link above.)
Joe is not suggesting Koetter hand over a regular-season NFL game to players, but it might be very effective to do something like this in practice or in preseason. You want a team that's more accountable to each other, well, what a great tactic to drive that home.
Joe would love to see Kwon Alexander and Lavonte David take charge of the defense for one day, for example. Or maybe let Jameis and his offensive brothers craft their own opening drive to a real game, or the first preseason game?
Last year, Joe asked Koetter if he was considering tweaking practices in an effort to get the Bucs to halt their streak of slow starts on offense. Koetter said that wasn't happening because he was following a "tried and true philosophy" of approaching practice.
Koetter used to coach high school basketball and certainly is a student of coaching, growing up the son of an accomplished coach and greatly respecting the profession. Maybe, just maybe, Kerr will inspire Koetter to step out of his comfort zone more often.