Dion Lewis And The Bucs
February 12th, 2018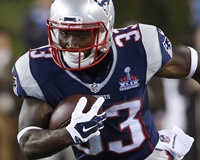 Joe understands a lot of Bucs fans have Patriots running back Dion Lewis on their radar.
The Bucs very much need to upgrade at running back and Lewis could be that guy.
A soon-to-be free agent when the free agency dinner bell rings in 30 days, Lewis has the versatility Bucs coach Dirk Koetter seems to favor, and the kind Bucs fans like.
Last season, Lewis, 27, had 896 yards rushing and 214 yards receiving.
Now Joe asked Lewis at the Super Bowl Opening Night event what his free agency plans are and Lewis Rosenhaused Joe. However, Jeff Howe of the Boston Herald seems to know.
In short, Lewis wants to get paid.
Dion Lewis (unrestricted free agent): Lewis will want something comparable to a three-year, $18 million deal with $10 million guaranteed to avoid free agency. Don't expect a hometown discount.
And just for random, fun speculation, another Patriots versatile running back is also a free agent. That would be Rex Burkhead, who has averaged over four yards a carry and eight yards a catch playing for Cincinnati and New England the last two seasons.
Burkhead was a warrior when he played for Nebraska in college. Guess who also played for Nebraska?