Reasons To Believe
January 19th, 2018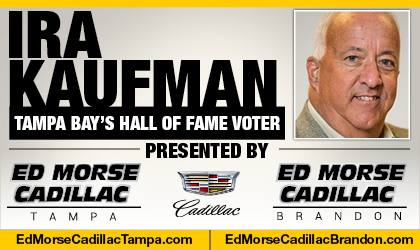 BY IRA KAUFMAN
Jason Licht says the NFL is a pass-fail league, and he's right.
The grades are in for the 2017 Buccaneers and they get a big, fat "F." Virtually nothing went right after a 2-1 start and Buc fans are naturally worried this slide will continue under the same braintrust.
There is plenty of cause for concern. Tampa Bay plays in the league's premier division, and that's not likely to change as long as Drew Brees, Cam Newton and Matt Ryan are flinging footballs in the NFC South.
The Saints, Panthers and Falcons combined for a 32-16 record last year in the only division to feature three teams with winning records. The surest way to earn a playoff berth is to win your division, so the road to the postseason remains treacherous for the Bucs.
But less than two months from free agency, there are several factors that could play in Tampa Bay's favor this time around.
Here are some reasons to believe:
WINSTON'S HEALTH
Winston had reeled off 40 consecutive starts since he was the first overall pick of the 2015 draft before a shoulder problem sidelined him for three weeks at midseason. I have compelling reasons to believe Winston was first injured in Week 2 at Minnesota, but he played on because he's a competitor to his core.
It was critical for Winston's confidence that he came back strong after Ryan Fitzpatrick filled in admirably. In the final five games, Winston's completion rate was a sizzling 67 percent, with 9 touchdown passes and 5 interceptions.
He did lose 5 fumbles in that span, so ball security remains an issue, but nobody at One Buc Place — including the owners — doubts Winston will be a big-time player.
"He's as tough as they come," says Fitzpatrick. "Playing through what he did and not wanting anybody to feel sorry for him, that's Jameis. He's got all the right qualities."
SENSE OF URGENCY
After last year's steep decline, everybody is on notice. One more bad season and the Glazers figure to make a clean sweep, starting with the GM and the coaching staff. Even some of the team's marquee players would be in jeopardy at that point because a new regime wouldn't have any ties to them.
Unlike 2017, there won't be a mulligan issued by ownership if things go awry and the Bucs land once again in the division basement.
With a renewed focus and the realization that this is their final shot for success, Licht and Dirk Koetter enter the offseason knowing they have to get this right.
A 10-year playoff drought has stretched the patience of Buc fans. Even the Stick Carriers are close to jumping off the pirate ship.
MOVING ON FROM MARTIN
In two of his six pro seasons, Doug Martin was an elite running back.
The past two years, he's been awful That sounds harsh, but the numbers don't lie.
In each of the last two seasons, Martin averaged 2.9 yards per carry. How bad is bad? That's the worst average for any back who had at least 70 carries in 2017. The year before, Martin's average ranked last for any back in the league with at least 90 carries.
Now the Bucs are moving on, and I wish Martin success on his next NFL stop. But now that the Bucs have moved past their steadfast loyalty to Martin, their ground game has a chance to grow into a vibrant force.
Adding a speedy complement to Peyton Barber in free agency or the draft would give Tampa Bay an opportunity to balance Koetter's offense.
LESS TO KICK ABOUT
Although Patrick Murray needs to improve his long-range kicks and his kickoffs, he did provide the reliability Tampa Bay has been seeking at a nightmarish position.
Murray converted 17-of-18 FG tries from inside the 50, and that's a huge upgrade from what Buc fans are used to seeing. Nick Folk missed four attempts from inside the 50 before he was jettisoned, and those lost points are critical in a league where most games are close.
In 2016, Roberto Aguayo went 22-for-30 from inside the 50 and Buc fans cringed whenever he would line up seven yards back from the line of scrimmage. Murray will face competition in training camp, but it's hard to believe whoever wins the kicking job won't be a marked improvement on Aguayo and Folk.
NO DISTRACTIONS
Except for a pending NFL investigation into Winston's conduct in an Uber vehicle almost two years ago, the Bucs should enter training camp with a laser focus.
No "Hard Knocks" cameras lurking about, no weight of big expectations coming off a 9-7 season. Even the locker room chemistry should be better if a couple of players aren't invited back.
There you have it, Buc fans. Every season, at least one NFL club makes the leap from the basement to the division penthouse.
I can hear you now: Why not us?
Ira Kaufman is the most revered sports personality and writer in town. He has hung his hat at JoeBucsFan.com world headquarters since July 2016. Tampa Bay's only Pro Football Hall of Fame voter, Ira busts out columns here every Monday, Wednesday and Friday, and his award winning podcasts fire Tuesdays and Thursdays. You can also hear Ira every Wednesday on SiriusXM Mad Dog Radio at 5 p.m., and see him Mondays and Fridays at 10:30 p.m. on Spectrum Sports 360.