Politics Sank Ronde Barber Hall Bid
January 3rd, 2018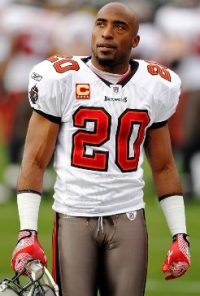 Those who listened to the Ira Kaufman Podcast through the spring already knew Ronde Barber was a long shot to be a Pro Football Hall of Fame finalist for the Class of 2018.
And that sadly played out on national television last night.
Barber did not make the cut to the final 15.
The voters didn't put him there, so there will be no presentation of Barber by Kaufman on the day before the Super Bowl. There will be no vote on Barber this year to become an inductee.
You could argue Barber was worthy of first-ballot consideration. But as Kaufman learned from a sample of voters at the NFL Owners meetings in Phoenix back in March, too many of his esteemed colleagues had a who-is-Ronde-Barber mentality.
Courtesy of CBS Sports, the list of 2018 finalists is below. It's likely five will get the votes necessary to enter the Hall this year.
Ray Lewis — linebacker for the Ravens
Brian Urlacher — linebacker for the Bears
Edgerrin James — running back for the Colts, Cardinals, and Seahawks
Randy Moss — wide receiver for the Vikings, Raiders, Patriots, Titans, and 49ers
Terrell Owens — wide receiver for the 49ers, Eagles, Cowboys, Bills, and Bengals
Isaac Bruce — wide receiver for the Rams and 49ers
John Lynch — safety for the Buccaneers and Broncos
Brian Dawkins — defensive back for the Eagles and Broncos
Ty Law — defensive back for the Patriots, Jets, Chiefs, and Broncos
Everson Walls — defensive back for the Cowboys, Giants, and Browns
Tony Boselli — tackle for the Jaguars
Joe Jacoby — tackle and guard for the Redskins
Steve Hutchinson — guard for the Seahawks, Vikings, and Titans
Alan Faneca — guard and tackle for the Steelers, Jets, and Cardinals
Kevin Mawae — center and guard for the Seahawks, Jets, and Titans
See those cornerbacks there, Ty Law and Everson Walls. It helps to be a Patriots or a Cowboy.
Joe's not bashing the Hall of voters here, but it's become political process. Why? Because they're human; egos and perceptions are factors.
If Team Glazer wants its beloved Bucs icons in the Hall, Joe's convinced all they need to do is ask Kaufman exactly what he needs to be the most effective Tampa Bay ambassador he can be, and to work the process behind the scenes in stadiums across the nation. And then Team Glazer needs to deliver.
It also wouldn't hurt to nudge Barber to mingle with the Hall voters when he can.
Everson Walls over Ronde Barber. C'mon.