Searching For A Defensive End
January 19th, 2018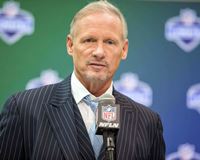 Joe had a chance to chat with arguably the best, most knowledgeable NFL draft guy out there, the NFL Network's Mike Mayock.
As usual, Mayock will broadcast the East-West Shrine Game Saturday on NFL Network and Joe talked with Mayock at one of the game's practices this week. In today's installment, Mayock discusses the riddle of drafting defensive ends. On Monday, Joe will have Mayock's thoughts on two players Bucs fans should have on their radars for this spring's draft.
JoeBucsFan: Why is it so difficult for teams to find a defensive end, an edge rush guy?

Mike Mayock: I just think a lot of it is DNA. It is what you are born with. You are talking about what you are looking for is a 6-4 or 6-5, 250-pound guy who runs like a running back. I mean, that is what you are looking for. They are few and far between as far as natural specimens. If you are looking for a Vonn Miller, that's one thing. But I think there are a lot of really solid defensive ends coming out.
The way the Bucs seemingly cannot develop a defensive end is mind-blowing. Joe likens it to organizations across sports that for whatever reason cannot develop a player at a specific position or positions. You know, like the Braves and closers, or the Rays and hitters or the Bears and quarterbacks.
There may be no deeper crater on the Bucs than defensive end and, sadly, the early look at the crop of defensive end free agents is bare.