Koetter Stands Firm On 2017 Talent Assessment
January 2nd, 2018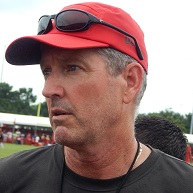 You heard it.
Joe heard it.
The national Hard Knocks audience heard it.
Dirk Koetter said many times publicly this past spring and summer that he had the most talented Buccaneers team in his three seasons as a Tampa Bay coach. In his office, Koetter told that to Jameis Winston during a powerful Hard Knocks segment.
What made that all even more intriguing is in the summer of 2016, before the 9-7 campaign, Koetter told local media that the Bucs are more talented than people think they are.
So here we are in the present. The Bucs just finished a disappointing 5-11 campaign. So yesterday Joe asked Koetter whether he "overvalued" that talent before this season.
"No, I don't think we overvalued it," Koetter said. "I do a lot of presentations to the guys about talent. One of the quotes I use is, "Talent is cheaper than table salt. Everyone in the NFL is talented. Ok. We talk a lot to the guys about ways to enhance your talent. And all 32 teams have talent. I'll stand by my comment that it's the most talent that we've had. I'll stand by that. No problem. I still believe that. But getting that talent to score enough points and rush the passer enough is what we didn't do. And again, I'm not blaming anybody; I'll start right there with me."
Ok. Joe appreciates the straight answer from the head coach; Koetter thinks 5-11 was just a failure of coaching and players. But Joe's not sure what to make of that. It's almost a little scary.
Too many key Buccaneers were, for lack of a better word, bad. Chris Baker, Doug Martin, Vernon Hargreaves and T.J. Ward come to mind.
Will Gholston, Robert Ayers, Mike Evans and J.R. Sweezy performed below expectations. Those guys, along with the previous four, are a big chunk of the roster.
Of course, injuries hurt the Bucs, but nearly every team has injuries.
Regardless of what the Bucs think of their talent, Koetter and Jason Licht will be focused on improving every position in the offseason. That's the good news on the roster front.
The season of hope is here.