Koetter Likes The Deep Passes
January 13th, 2018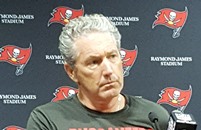 Yeah, it's easy to say Dirk Koetter's offense is a vertical offense. But a peek inside the numbers sure bears that out.
Of course, we all know how lousy the Bucs were with YAC (yards after catch). The Bucs were one of the worst in the NFL averaging a paltry 4.4 yards. Only the Crows were worse. Throw in the fact that reserves Charles Sims and Adam Humphries led the Bucs in YAC and were way down the NFL food chain in YAC, and it borders on embarrassing.
Yet the Bucs set a franchise record this season with 7.61 passing yards per attempt.
Just doing a little math (always scary), if a team sets a franchise mark for passing yards per attempt, yet stinks out loud in YAC, that tells Joe the targets for America's Quarterback, Pro Bowler Jameis Winston, were not guys hanging out in the flat all that much.
Given how the offense was mostly lousy in the first halves of games, perhaps mixing in more shorter passes to DeSean Jackson in space and letting his wheels take over might be in order?