King: Chucky Saved Koetter
January 9th, 2018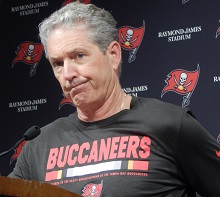 A sect of Bucs fans wanted Dirk Koetter gone this month because the Bucs terribly under-performed and finished with a 5-11 record.
Well, for those folks who have been in hibernation since Team Glazer decided to retain Koetter, there is one man to blame, said chewing-with-his-mouth-open, soup-gulping, California train-romancing, anti-football proliferation, outhouse-admiring, airline-napping, steerage-flying, Yogi Berra-worshiping, urinal picture-taking, video game-playing, Taylor Swift-listening, pickpocket-thwarting, Bucs-uniform-frowning, Allie-LaForce-smitten, Big-Ten-Network-hating, pedestrian-bumping, olive oil-lapping, popcorn-munching, coffee-slurping, fried-chicken-eating, oatmeal-loving, circle-jerking, craft beer-chugging, cricket-watching, scone-loathing, college football-naïve, baseball-box-score-reading, NPR-honk, filthy-hotel-staying, fight-instigating, barista-training, social activist Peter King of SI.com fame. And that man's name is Chucky.
Appearing last week with the one and only Chris "Mad Dog" Russo, heard exclusively on SiriusXM Mad Dog Radio, King noted that if Chucky wanted to coach the Bucs, he would be the coach of the Bucs today.
Chris "Mad Dog" Russo: Out of all the coaches who stayed, are you surprised Koetter survived down there in Tampa?

Peter King: I think Koetter saved his job not by winning his last game of the season or anything like that. I think he saved his job because Jon Gruden went to Oakland.
So there you have it folks. For those who are angry Chucky is not on the Bucs sidelines, blame Chucky, not Team Glazer.