Jason Licht On Jameis: "A Lot Smoother Player"
January 9th, 2018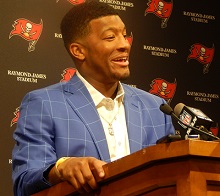 Ahh, the evolution of Jameis Winston. It's been a wild, wild ride.
America's Quarterback has grown in so many ways and regressed in others.
For example, take Jameis' fumbling problem. As a rookie, he actually was among the best QBs in the NFL at keeping his hands attached to the football. In the 2016, Jameis got a lot worse. This season he was the most charitable player in the league.
But Jameis also had some of his best career games this season and managed to cut the rate at which he throws interceptions and his completion percentage improved, despite a messed up shoulder.
Bucs general manager Jason Licht was waving a proud flag for Jameis last week on the Buccaneers Radio Network, just before Jameis shocked the NFL and beat the Saints with a winning TD bomb — after tossing three interceptions.
"He's just got, in the last month since he's been healthy, just a different mindset," Licht said of Jameis. "You see a more relaxed feel to him. You still see the energy. You still see the fire in his eye. But he's just, on the field, a lot smoother player. Those are some things we're going to see going into next season, I'm sure."
We shall see.
Less DeSean Jackson seemed to make Jameis a "smoother player." Perhaps that's just a coincidence?
Jameis has a lot to prove, and lots of room to grow. At least cut the turnovers in half, Jameis, and find a way to play solid football in the first halves of games. That would be Joe's basic advice.
Hopefully, the Bucs will help Jameis — and the national perception of him — with a defense that doesn't make you close your eyes.