"Grimes Has Done Some Things Around Here That I Didn't Think Were Possible"
January 22nd, 2018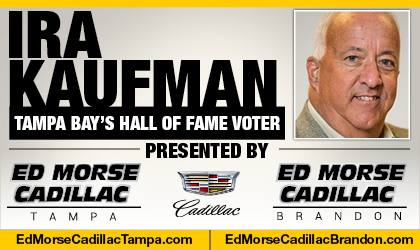 Ira Kaufman is the most revered sports personality and writer in town. He has hung his hat at JoeBucsFan.com world headquarters since July 2016. Tampa Bay's only Pro Football Hall of Fame voter, Ira busts out columns here every Monday, Wednesday and Friday, and his award winning podcasts fire Tuesdays and Thursdays. You can also hear Ira every Wednesday on SiriusXM Mad Dog Radio at 5 p.m. (but not this Wednesday), and see him Mondays and Fridays at 10:30 p.m. on Spectrum Sports 360.
BY IRA KAUFMAN
The man has some serious leverage. He knows it — and the Bucs know it.
Brent Grimes has made a nice living playing defense in the NFL for the past 11 years. Now, he's on offense.
The Bucs need him back, but when Grimes hits the free-agent market in March, he will be a valuable commodity. Even though he turns 35 in July, the man can still cover with the best of them.
He was one of the few bright spots on a defense that surrendered the most yards in pro football. He knows Mike Smith's system better than any other Buccaneer and he knows exactly where he stands with Tampa Bay's coaching staff.
"I tried to give him a sell job this morning, and I told him we would love to have him back," Dirk Koetter said, describing his exit chat with Grimes. "I think Brent defies his real age, and there's been other guys around the league that have been able to do that. He's a free agent so he's in control of it, but we'd love to have him back, and I told him that."
Talk is cheap. Grimes won't be.
Miko is already on record as saying that money talks in free agency.
The Bucs have plenty of cap room and plenty of reasons to make a big pitch for the only NFL player with at least three interceptions in each of the past five seasons.
"Brent Grimes has done some things around here that I didn't think were possible," says Keith Tandy. "I knew he was good, but I didn't know he was this great. He's by far the best I've seen."
Grimes missed three games last season with a shoulder injury, but he's been very durable. And when you look at Tampa Bay's depth chart at corner without Grimes — Vernon Hargreaves. Javien Elliott, Robert McClain, Ryan Smith, David Rivers and Josh Robinson — you realize why Grimes would leave a massive hole if he departs.
There are other teams right in the NFC South who would covet Grimes as a free agent. Don't you think the Panthers, Falcons and Saints would want to add a veteran cornerback who still plays at an elite level?
If the money is right, the Bucs would seem to have a decent chance to re-sign Grimes.
"We've got good vibes on this team," Grimes says. "Smitty is a good coach. He's seen a lot and he knows a lot about football. Obviously, we've got to fix some things, but a big key in football is people wanting to play together … and I feel like we've gotten that part."
If Grimes returns, Smith should at least think about utilizing him the way some other defenses handle their best cover corners. Patrick Peterson and Xavier Rhodes understand that a key part of their job is to shadow the opposition's best receiver.
End of story. No questions asked. They embrace the challenge.
But when Julio Jones was torching the Bucs in Atlanta, Grimes remained on his side of the field, regardless of where Jones lined up. I'm still waiting for a decent answer why Grimes wasn't locked onto Jones.
What has the Bucs concerned is the fact Grimes holds the cards heading into free agency. He's not about to give away his hand.
"I can't give you a definite answer right now," he says. "I've got some stuff to think about. They made it clear they want me back. I like Dirk, I like the coaching staff, I like the city. All of that will weigh into my decision."
But in the end, the Grimes family will have a Beatles record playing in the background when free agency comes 'round.
Money don't get everything it's true
What it don't get, I can't use
Now give me money
That's what I want
That's what I want, yeah
That's what I want