Darkwa Fits
January 20th, 2018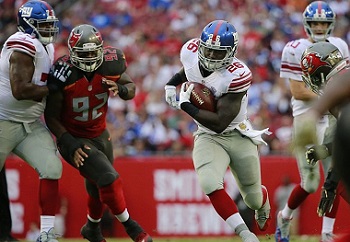 Fantasy football fans know the name Orleans Darkwa.
And students of bad offensive line play know him, too.
Darkwa carries the rock for the Giants, whose o-line resembles the Bucs' defensive line — limp.
But Darkwa, who will hit unrestricted free agency in seven weeks if he's not re-signed, somehow managed to carry the rock successfully behind that brutal New York line. He finished this season with 171 carries for 751 yards (4.4 yards per carry) and five of the Giants' six total rushing touchdowns.
An undrafted free agent out of Tulane in 2014, Darkwa has averaged 4.2 yards per carry through his career. But 2017 was his first year with a shot at full-time action.
The young man is beloved by Giants fans aching for positives out of a lost season, but new general manager Dave Gettleman is likely to make sweeping changes and may have his heart set on stud college prospect Saquon Barkley with their No. 2 overall pick in the draft. Remember, Gettleman drafted a running back at No. 8 overall last year, Christian McCaffrey, while GM of the Panthers.
Joe sees Darkwa as an excellent fit for the Bucs if they believe Peyton Barber is the real deal, meaning he is 1A-type of rusher good enough to share the load with another 1A kind of guy like Darkwa.
Joe has zero faith in the Bucs' ability to secure a stud rusher in this 2018 draft, so Joe would give a standing ovation to Jason Licht chasing a solid young back like Darkwa in free agency.