The System Broke Down
January 3rd, 2018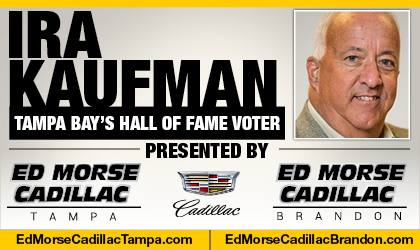 BY IRA KAUFMAN
System corner.
That's the belittling phrase I heard from several members of the Hall of Fame Selection Committee regarding Ronde Barber when his name came up during the NFL owners meeting last March.
That was a warning shot, advance notice that a key member of an iconic defense was going to have problems making it to the finalist stage in his first year of eligibility.
So what happened on Tuesday? Barber found himself on the outs when the final 15 was revealed.
Shame.
There are 25 defensive backs with busts in Canton — not one has the resumé of Ronde Barber. None.
That doesn't mean No. 20 was a better cornerback than Deion Sanders or Darrell Green, but it does mean he was different, more versatile.
"Ronde was a complete player at the position," Rich Gannon told me this season before a Bucs game at Raymond James Stadium. "He was great in run support, he was a great blitzer and he was really smart. He understood that scheme so well and he cheated within that scheme."
In the eyes of some, Barber's accomplishments were diminished because he played in a Cover 2 system. That's just silly. Do we take points away from Joe Montana because he excelled in Bill Walsh's West Coast offense?
Of course not.
Special "Involvement"
Barber's durability was historic for the position. I used to call him the smartest player in the league, regardless of position, because he was a master at breaking down tendencies.
He would goad quarterbacks into mistakes and the best example came when he turned in the biggest play in franchise history, picking off Donovan McNabb and going the distance to clinch the NFC title game.
McNabb thought Barber was blitzing, but he dropped into coverage instead. Barber outsmarted a quarterback who excelled at minimizing mistakes.
Barber will have many more years to make it into the discussion room, and so will Simeon Rice, who made strides by advancing to the semifinalist stage for the first time.
My only presentation in Minneapolis will be the case for John Lynch, who returns to the room for the fifth consecutive year. It could come down to a scrap between Lynch and Brian Dawkins, two impact safeties known for their physicality.
Mike Tomlin, who dealt with Lynch and Barber as Tampa Bay's secondary coach, says both are worthy of a place in Canton.
"It was an honor and a privilege to work with those two men," Tomlin told me. "Those guys really provided a springboard for my career. They made plays. They were football players, team players. They impacted the game in a lot of ways — maybe in some ways that stats don't reveal.

"I know that's the case with John. You're talking about an enforcer, a tone-setter at the safety position. Ronde did things other cornerbacks didn't. He was a 100-tackle guy and his involvement in the running game was special. So was his involvement in the blitz game. He was at the forefront of defining what we know now as the nickel position."
Lynch Timing
Add it all up and it's baffling why Barber has to wait at least another year for his case to be heard.
Lynch has a chance, a good chance, to be fitted for a gold jacket.
The time is right because Ed Reed will be eligible for the Class of 2019 and he has the look of a first-ballot Hall of Famer.
Dawkins was a heck of a player, but Lynch was a cornerstone of an iconic defense that shut teams down over a long period of time.
System corner, my butt. In my book, the system just broke down.
Ira Kaufman is the most revered sports personality and writer in town. He has hung his hat at JoeBucsFan.com world headquarters since July 2016. Tampa Bay's only Pro Football Hall of Fame voter, Ira busts out columns here every Monday, Wednesday and Friday, and his award winning podcasts fire Tuesdays and Thursdays. You can also see Ira every football Sunday at 10:30 a.m. on FOX-13, Scott Smith's Tailgate Sunday.