John Lynch And Saturday's Numbers Game
January 31st, 2018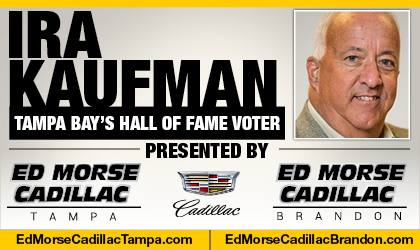 BY IRA KAUFMAN
I'm a man on a mission as I prepare to travel to Minneapolis.
Hopefully, the Super Bowl will be as competitive as the meeting of the Pro Football Hall of Fame selectors figures to be Saturday morning, when 48 media members convene to choose the Class of 2018.
John Lynch is back in the room for a fifth consecutive year, which means he continues to generate a lot of support. Now it's time to kick in the door to Canton and let Lynch join a couple of former teammates who have already been fitted for a gold jacket.
A maximum of five modern-era finalists can be elected in any given year, meaning at least 10 of the 15 candidates who will be discussed walk away disappointed.
Lynch knows the feeling, but he has survived the initial cut from 15 to 10 in each of the past two years. That's a very good indication that his time is near.
Standing in Lynch's way are 14 other candidates and let's be honest here — when you advance to this stage you were an exceptional player.
Brian Dawkins is back in the room to provide fierce competition at safety, a position that has been neglected by Hall voters for far too long.
Lynch's Competition
There are also two cornerbacks among the finalists, Ty Law and Everson Walls. Ray Lewis and Randy Moss are the headliners, but Terrell Owens has been waiting and Brian Urlacher has garnered some support in his first year of eligibility.
There's no doubt that Lynch loses the statistical battle against Dawkins, who was given free reign as a ball hawking safety for the Eagles. But these voters need to realize that Lynch played a crucial role on the best defense of its time, a Cover 2 scheme that was widely imitated but has yet to be equaled in the past two decades.
"I cannot think of a guy that played that system better than John Lynch," says Ronnie Lott, who set the standard for the safety position during a Hall of Fame career. "You don't get the opportunity to make a lot of interceptions in that scheme, but John Lynch was essential to its success."
When Tony Dungy arrived in Indianapolis in 2002, he told GM Bill Polian the Colts needed a safety like Lynch. Two years later, Polian drafted Bob Sanders.
"The position John played in the Tampa 2 is unique," says Polian, "and I can speak to it because I was with Tony for seven years and we picked players for that defense. Without a dominant safety, that defense does not work. You have to be big, explosive, physical and smart. When there's eight in the box, he's the guy. You don't get picks in the Tampa 2 … you blow up receivers."
The great Barry Sanders says Lynch occupied a spot in his mind. That was a different era, when intimidation was welcome and big hits generated turnovers and changed momentum.
Numbers Problem
When the Bucs were in a close game during their glory days, the Glazers would turn to each other and say, "We need a John Lynch moment."
Although Lynch's 26 career interceptions don't represent a big number, 14 of them came in the fourth quarter. The Tampa 2 should have been called the Tampa 3 because Lynch had more responsibility in the Buc defense than Derrick Brooks or Warren Sapp.
"Don't list safeties by how many picks they have," says Hall of Fame quarterback Steve Young. "I know it's hard to pick Hall of Fame safeties, but that misses the point and you don't understand the position if you judge safeties that way. In both Tampa and Denver, John Lynch was the quarterback of those defenses. Think about it this way — if you're a safety and you're always around great defenses, by definition you're a great safety."
Brian Billick, who coached against both Lynch and Dawkins, says No. 47 should be the next safety in the Hall.
"I love Dawkins as well and he has numbers, but to me one criteria for the Hall is whether a guy re-defined the game," Billick says. "Like Cris Carter did as a slot receiver. John Lynch was the first drop-in-the-box safety. The man changed the game."
Ira Kaufman is the most revered sports personality and writer in town. He has hung his hat at JoeBucsFan.com world headquarters since July 2016. Tampa Bay's only Pro Football Hall of Fame voter, Ira busts out columns here every Monday, Wednesday and Friday, and his award winning podcasts fire Tuesdays and Thursdays. You can also hear Ira on SiriusXM Mad Dog Radio Thursday at 6 p.m., and see him Mondays and Fridays at 10:30 p.m. on Spectrum Sports 360.