"Tight-Window" Turnaround
December 19th, 2017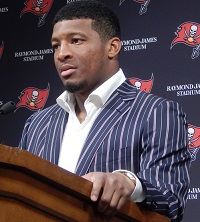 Those fancy official NFL computer chips in balls and uniforms have churned out fresh and interesting data on America's Quarterback, Jameis Winston.
Those "Next Gen" stats paint Jameis as a busy tight-window thrower but not much of a tight-window completer.
But that changed last night. Consider the following Next Gen readings via Matt Harmon from NFL.com.
One of the most aggressive quarterbacks in the NFL, we should always expect Winston to operate as a gunslinger. He has been exactly that this season, throwing 19.8 percent of his 2017 passes into tight windows (less than 1 yard of separation), the eighth-most among qualifying quarterbacks. Those plays haven't bore good results. In Weeks 1 to 14, Winston maintained a 37.6 passer rating on tight-window throws, falling well below the NFL average thanks to five interceptions on 64 attempts.

Winston was noticeably better on this brand of throws [last night], looking much like the gifted quarterback we expected to see this year. He posted a sterling 144.3 passer rating on his tight-window passes against the Falcons, consistently drilling the ball into confined quarters. Winston also posted the type of highlight-reel plays one wants to see from a developing quarterback, especially one surrounded by a stable of talented players. Most notably, his deep touchdown toss to Mike Evans traveled 50.9 yards of distance in the air, the third-longest completion of the week.
Interesting to learn that Jameis throws the "eighth-most" balls into tight windows. Is that on Jameis and his decision-making, the receivers, or both?
That's a good number to cut. But that total doesn't matter when you're a surgeon like Jameis was last night, on the move and in the pocket. Obviously, Jameis has it in him.
Joe would love to see last night's kind of precision in the final two games. It would say a lot. And it could save jobs. A lot of jobs.