The Morning After
December 4th, 2017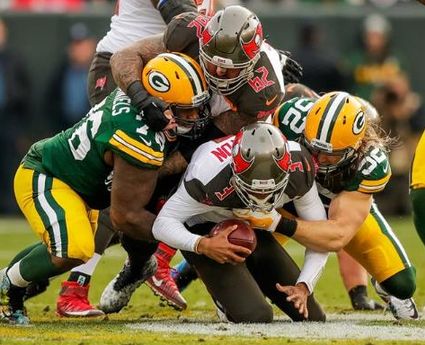 A bitter morning today as Joe is trying to get the taste of Pepto Bismol out of his mouth from chugging four bottles after Mike Smith's defense again wet the bed.
1. To read missives from Bucs fans, America's Quarterback, Pro Bowler Jameis Winston, is worse than Rob Johnson and should be cut immediately so the team can move on and bank the future with the Ryan Fitzpatricks, Tyrod Taylors and Sideshow Bobs of the world. Welcome to your Bucs nightmares of the past.
A glance at Sunday's box score shows Jameis had a fine day. And if one had to shut off the TV with six minutes left [in regulation], a Bucs fan would be content that Jameis again gave the Bucs a fourth quarter lead. But here we go again. That rotten road defense capitulated. Again, giving up nine points in two of the final three Packers drives in regulation and overtime. That's twice in Jameis' last four starts he gave the Bucs a fourth quarter lead, only for the defense to ralph all over the field, both against rotten quarterbacks  — quarterbacks Bucs fans now want to start for their team. Sure, Jameis had a moronic play in which he fumbled and it was returned for a Packers touchdown. That did not cost the Bucs the game, not when Jameis brought the team back and gave them a lead. Claiming that play cost the Bucs the game is like saying a hitter in third inning stuck out with the bases loaded cost a baseball team a game — when the same hitter slugged a three-run homer in the eighth for a lead only to have the closer yack away the game. Only haters reach like that.
2. With playoff-chasing teams remaining on the schedule, it sure seems as if the Bucs will have a top-10 pick in the draft. But the 4-12 record may bring the immediate future of the team in doubt. Ira Kaufman likes to say Team Glazer wants the arrow pointing up at the end of the season. Well, if the Bucs lose out, that's not exactly arrow pointing up. Joe will write it again: There isn't an NFL team that wouldn't drool to have Gerald McCoy, Lavonte David, Brent Grimes, Kwon Alexander and Kendell Beckwith on their starting defense. And it's very unlikely those same teams would have the worst defense in the NFL with those five core players. No matter what may or may not happen to the football staff of the Bucs if they lose out, Joe just cannot see how defensive coordinator Mike Smith remains in his current position. You take away the now mirage of five games late in the 2016 season, in which the Bucs defense played well, and Smith's defense has been an embarrassment. Joe likes and respects Smith a ton but results are results, and the results Smith gets from his defense are unacceptable and they are costing the team wins, and may just cost good people their jobs.
3. Bucs fans who have been hollering that the offensive line was killing the run game may have a minor point. Joe believes it was who was toting the rock, not who was blocking. But with a makeshift line (two starters were out) Sunday, the Bucs had their first 100-yard rusher since October 2016, as Peyton Barber, who Joe always felt had the best upside of all the Bucs running backs, ran for 102 yards. Again, Joe gives a load of the share of the credit to Barber, but perhaps, the backups who played on the front line are a little better at run blocking than the starting-five? However, the Bucs did allow seven sacks, one shy of a Packers record. That could be because Barber is not a good blocking back. One play Joe had his binoculars on Barber on a Jameis dropback and Barber did the best impersonation of a turnstile this side of Jeremy Trueblood. It was bad. Barber's known hiccup in pass protection may have contributed to the ghastly seven-sack day.
4. It sure seemed Dirk Koetter was pulling out all the stops. He started Peyton Barber (smart) and look what happened. He used O.J. Howard in the second quarter and he turned in a big play. Jameis found Chris Godwin open for a brief second in the end zone put couldn't complete the pass. Why has Koetter waited until perhaps it is too late to use Barber? Why does he wait to use Howard and Godwin when they have shown they can make plays?
5. Joe heard a lot of Bucs fans at the game say that when they bought tickets, with the game set for December, they were scared the game could be flexed to a night game. The Packers were led by Aaron Rodgers and the Bucs had high hopes for the season. But a combination of Rodgers getting hurt, Jameis getting hurt and the Bucs horribly playing below expectations, fans were saved what potentially could have been a brutally cold game on a north Wisconsin December night. Instead, fans got two struggling teams to watch in an upper Midwest October-like day with the temperature hitting 50. Man, how things changed in a handful of weeks.
Trinkets: The Bucs defense, woeful as it was in two of the final three Packers drives, did a solid job overall. The Bucs entered yesterday's game allowing 455 yards a game on the road. The Bucs held the Packers to 276 yards. But, the fourth quarter. … It is very difficult to believe intelligent men cannot find a way to use dangerous DeSean Jackson. The Bucs are not getting a good return on a major investment and from the naked eye, it doesn't appear that Jackson is the culprit. … Joe is going to stop the snark calling Will Clarke the 53-year old former All-Star first baseman. The Bucs' reserve defensive end now has three sacks in his last four games after his two-sack performance yesterday. It looks like defensive line coach Jay Hayes may have found someone he can groom. Clarke is making cash with his play of late. … In the locker room after the game, the two LSU products took the loss hard. Kwon Alexander sat for many minutes in front of his locker with his head in his hands. Kendell Beckwith also hung his head staring at the floor for a good bit of time.
Two days in Green Bay: Joe honestly didn't know what to expect going to Packerland this weekend. Of course, we all read and hear how wonderful it is for football, but Joe had no clue. Let's just say it lived up to the hype.
Sometimes working for something makes the rewards a bit sweeter. And that may be true of going to Green Bay for a football game. It's out in the boondocks, a two-hour drive from Milwaukee along the Lake Michigan coast and a three-hour drive from Chicago. Once you get outside of Milwaukee, it's pure farmland. Joe saw more dead deer along I-43 driving up from Milwaukee as he did cops. That's the truth.
It takes an effort to get to Green Bay. But it is worth it.
Green Bay isn't any different than any small city it seems. Think Brandon. No real defining skyscraper. You pull off the interstate, make a turn and boom, you are in town. You make another right hand turn and hey, what is that over there, that building with a big "G" on it? Oh, yeah, it's Lambeau Field!
A four-lane road not unlike Gandy Blvd. in Tampa or 22nd Street in St. Petersburg surrounds two sides of the stadium (one is Lombardi Ave.). On the other two sides? A middle class neighborhood. Like having an NFL stadium in your backyard or for a neighborhood park. The parking lot surrounding Lambeau Field has the feel of a high school parking lot. And across the street from the school stadium sits the Packers practice facility, the Don Hutson Center, which looks like an LA Fitness place.
Green Bay may not be the best for partying (hard to beat New Orleans or perhaps South Beach or even Pittsburgh) but it is like a throwback to a Norman Rockwell portrait. Sort of like living a "Happy Days" episode. Just some kind of quaint charm of an NFL stadium in a clean, leave-your-front-door-unlocked neighborhood. Many of the houses, in typical Midwest fashion, have a basketball hoop in the driveway. A place where kids, after they come home from church on Sundays, can play football in the front yard in the morning and then walk to the game with their dads.
The Packers have bought land surrounding Lambeau in recent years and have turned the property into mixed-use land, meaning it is a 365 entertainment plaza (very similar to what the St. Louis Cardinals have done where the stadium is surrounded by bars and eateries all located on team-owned land — a project the Atlanta Braves are trying to emulate as well). There are high end restaurants/bars/craft breweries both inside the stadium atrium and outside the stadium that are open year-round. Joe watched the Big Ten championship game Saturday night from 1919 brewery inside the stadium atrium (the name comes from the year the Packers were founded). Also inside the atrium of the stadium is the Packers Hall of Fame and stores. Joe walked through the Packers Pro Shop, which is damn near as big as a Dick's Sporting Goods store. They will slap a Packers logo on any friggin' thing. Joe even saw Packers crock pots and Packers facial tissue — that's not a joke!
Across the street near a steak restaurant/brewery called "Hinterland," there is an outdoor plaza that the Packers turned into a German-like WinterGarten replete with an ice rink and surrounded by decorated Christmas trees. It was way cool. On Saturday night, for no apparent reason, the Packers had a fireworks display over Lambeau Field.
For those frigid game days in Green Bay, the Packers have an auditorium/beer hall — think of a giant Ferg's across the street from the Fruitdome — in the parking lot of Lambeau Field. Bands play for tailgates and beer flows like water along the Fox River and brats are sold like gold nuggets on sale for a nickel.
The whole complex sort of looks like a mini version of International Plaza in Tampa, with an NFL stadium in the middle. Lambeau is sort of like Doak Campbell Stadium in Tallahassee, a bowl with bench seating.
Shoot, while touring the Packers Hall of Fame, Joe got to sit at Vince Lombardi's desk. The Packers even have recordings of Lombardi talking to players at his desk they play for visitors who squat in his chair. His film projector is an arm's length away.
Joe can't tell you how cool of an experience this was. Every NFL fan needs to make a trip up there once in his life.
The best way Joe can set the tailgate scene is that it's like a college tailgate party in a high school neighborhood. The Wisconsinites are beyond friendly. Oh, and they like to drink their beer and eat their brats and cheese curds, too.
Joe met an avid reader, Joe Salts (@37champs) and his son Jake, from Indiana. Joe met a lot of Bucs fans this weekend, some from Florida, many from the Midwest who travel to see the Bucs whenever they play, whether it is in Kansas City, Indianapolis, Chicago or, naturally, Green Bay. Anyway, when Joe was walking to the Vince Lombardi statue to meet Salts, a Packers fan hollered at Joe from about 20 yards away. He had full Packers regalia on, including Packers sunglasses and the official hat of Wisconsin, a cheesehead. He yells at Joe, "Hey, catch it!" And he throws a yellow and green football at Joe. Naturally, Joe pulled a Michael Clayton and dropped the ball. But that's how Packers fans are, the guy was just having a good time before the game and wanted to play catch with anyone that happened to be walking his way.
You drive through the neighborhood to get to the game, it is sort of like southwest Clearwater near Clearwater High School, and neighbors are throwing the football back and forth across the street while traffic passes beneath the throws of the Aaron Rodgers wannabes. Dan Lucas of WFLA-TV told Joe that he saw a house with a sign in the front yard "Clean bathroom."
It was just a cool deal all around Saturday and Sunday, even if Joe was working Sunday. By all means, one should put a trip to Lambeau Field on their bucket list. The experience is almost like a throwback to a simpler time. This place is special and Joe now understands why NFL people rave about it so. It's sort of like a shrine to the NFL.
Green Bay is not simple to get to. It isn't a huge party scene. It's not a place to hook up for a one-nighter. There is just something about it that is way cool and sets itself apart from any other NFL experience Joe has been through.