Koetter: Peyton Barber Is "Very Patient"
December 8th, 2017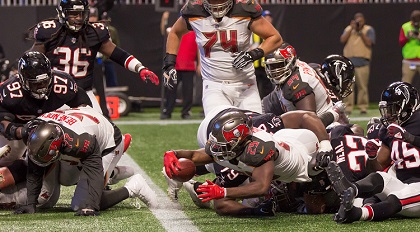 The Bucs' best running back, Peyton Barber, had 10 carries on opening day for 47 yards, and then he had two carries through the following six games.
He stayed patient, but that's not why Dirk Koetter called him "very patient" this week.
Barber is a patient running back. No dancing but no one-trick pony. Barber has vision and is willing to trust his blocking and measure his approach before exploding downhill.
Koetter was asked what makes Barber good during his weekly video sitdown with Scott Smith of Buccaneers.com.
"Peyton's a power back," Koetter said. "He's a between-the-tackles runner. Very patient. He's a guy that sets up his blocks well. And last week in Green Bay, what he did a good job of was making yards after first contact."
Man, Joe is fired up to see Barber carry the load in the Bucs' final four games.
He's got 53 carries on the season. What a great sample size it would be for the Bucs' evaluation of Barber if they can get him another 70 carries down the stretch.
Joe sure hopes the Bucs put their faith in the young man, versus the alternative.