Koetter Shares Peyton Barber's Winning Grades
December 11th, 2017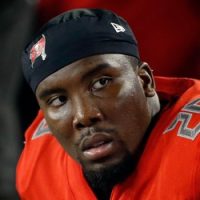 The Buccaneers' best running back may not be good enough to start for Dirk Koetter, but he's winning on the team's internal scorecard.
Koetter shared a bit from his spreadsheet this afternoon at One Buc Palace.
Peyton Barber, the guy Koetter wouldn't start yesterday against the Lions despite overwhelming evidence that he deserved the nod, was producing at a 75 percent rate. Per Koetter, Barber had 12 carries with eight efficient runs and one explosive run.
Martin had 10 runs, four efficient and a fumble, Koetter said.
The head coach also lamented that Martin's first-half fumble came with the Buccaneers in field goal range. For those who forgot, the Bucs lost to the Lions by three points.
Koetter was non-committal as to how the running backs will split time against the Falcons on Monday Night Football.
"We'll figure it out what we think is the best rotation for Atlanta," he said.
Yesterday, Joe took a believe-it-when-I-see-it attitude on what Koetter actually would do at running back. Joe's taking the same approach for Monday.
It's ridiculous to start Martin, but, well, you know.