"Jon Gruden Is Going To Be The Next Coach Of The Oakland Raiders"
December 31st, 2017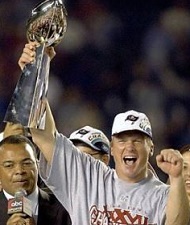 Jon Gruden's friends and co-workers at ESPN are talking.
That's quite a turn of events from last month, when they refused to utter a meaningful peep about the rumors of Chucky possibly becoming the Buccaneers' head coach — rumors Chucky did a whole lot of nothing to quash.
This evening, heavy-hitter NFL insider Adam Schefter hopped on the TV airwaves and put his cards on the table.
"It's simple, you don't make that move with Jack Del Rio unless you know you can get Jon Gruden," Schefter said on ESPN. "Jon Gruden is going to be the next coach of the Oakland Raiders. The only question is when it happens."

While the deal is not official yet, Schefter, along with Chris Mortensen, reported earlier on Sunday that the Raiders planned to aggressively pursue Gruden. According to their sources, Gruden would be "tempted to accept" the offer and that it could even include an ownership stake in the team.
Mortensen, through the years, has been known as a confidant of Chucky's, so Joe believes that gives the report greater credibility.
For those unaware, Raiders head coach Jack Del Rio, a former mentor of Dirk Koetter, was fired today.
There are rumors of Chucky getting an ownership share of the Raiders as part of a deal, but that would have to be approved by a vote of the others team owners, which could be sticky.
Regardless, Chucky wearing the silver and black again would be wildly entertaining — and it would leave legions of Bucs fans in disbelief and brokenhearted.
Joe will say this: Chucky getting the Raiders job would be quite a gift to the 2018 Koetter regime, eliminating the inevitable Chucky-to-the-Bucs chatter if, say, the Bucs jump out to a 1-3 start.