Ira Kaufman's Week 16 Picks Against The Spread
December 22nd, 2017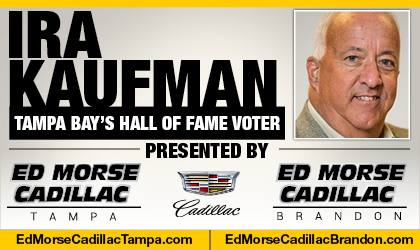 Joe challenged Ira Kaufman, Tampa Bay's only Hall of Fame voter, to pick against the spread this season for a $500 prize. Every Friday, Ira types out his picks for each Sunday and Monday game. If Ira hits at 53 percent or better for the regular season, then he gets $500 in gift cards to Abe's Place in Clearwater, home of historically amazing food and 44 craft beers on tap. Feel free to send Ira your stone cold locks on Twitter, @ikaufman76. The sage of Tampa Bay sports always appreciates a tip.
BY IRA KAUFMAN
A bounce-back week for sure, but hardly good enough.
After a 2-13 debacle that followed a 13-2 mark, we found the middle ground at 6-6 against the spread, with three games finishing as a push.
And while an 83-114 overall record is ugly indeed, there are still two weekends remaining, so let's get busy.
VIKINGS minus-9 at PACKERS. Green Bay took its best shot last week with Aaron Rodgers and came up short. With nothing to play for, the Packers take a beating in front of their Lambeau faithful.
LIONS minus 4 1-2 at BENGALS. If you've seen the Bengals lately, you know there's not much juice there as Marvin Lewis plays out the string. The Lions still have a chance.
JETS plus-7 vs. CHARGERS. Philip Rivers didn't get the job done in that Arrowhead showdown and the Chargers looked gassed. The Jets are still playing hard, especially at home.
RAMS minus 6 1-2 at TITANS. Coming off a sensational effort at Seattle, the Rams should light up the scoreboard again against a Titans defense that hasn't made the big stops.
BEARS minus 6 1-2 vs. BROWNS. Chicago gives John Fox a going-away present before the season finale as two NFL lightweights battle it out in the cold and the mud.
PANTHERS minus-10 vs. BUCS. Tampa Bay looks like a M.A.S.H. unit as the Bucs take their 1-6 road record into Charlotte. Cam Newton is speaking at the right time as Carolina positions itself for a January run.
SAINTS minus 5 1-2 vs. FALCONS. Drew Brees is throwing less and enjoying it more as New Orleans utilizes a two-back attack that will keep Matt Ryan chained to the Atlanta bench.
REDSKINS minus 3 1-2 vs. BRONCOS. Two underachievers meet in the nation's capital, with Kirk Cousins eager to finish strong and prove that Washington's disappointing season isn't his fault.
CHIEFS minus 10 1-2 vs. DOLPHINS. Miami doesn't travel well and the Chiefs need this one to lock up the AFC West and secure the AFC's No. 4 playoff seed. Kareem Hunt is starting to roll again after a six-week sabbatical.
PATRIOTS minus-12 vs. BILLS. Gronk is back, and that's bad news for a Buffalo secondary that will be spread out and exploited by the Brady Bunch.
JAGUARS minus-4 at 49ERS. San Francisco is surging, but the 49ers haven't faced a defense as stingy as Jacksonville. If the 49ers don't run, they won't be able to hide.
GIANTS plus 3 1-2 at CARDINALS. This game looked good on paper last summer, but big changes are in store for both of these NFC underachievers in the offseason.
COWBOYS minus-5 vs. SEAHAWKS. Seattle looks ready to fold after last week's humiliating loss to the Rams. The Cowboys look rejuvenated and here's comes Ezekiel Elliott to keep it that way.
STEELERS minus 9 1-2 at TEXANS. Look out for the Texans next year, but right now they look like a beaten-down franchise that can't wait for the season to end.
EAGLES minus-9 vs. RAIDERS. Nick Foles didn't exactly flunk his test filling in for Carson Wentz last week and the Eagles will fly against Oakland's embattled defense.